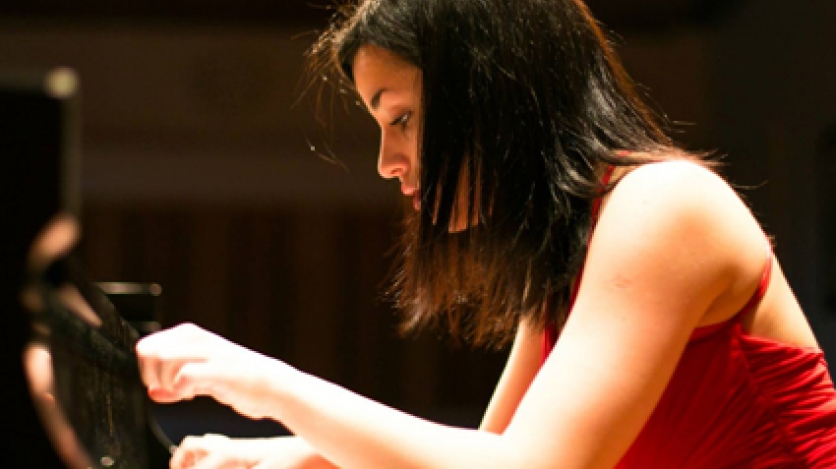 Image: Credit Tayla Nebesky.
Concert: Cuban Pianist Willanny Darias
Music of the Americas presents young Cuban pianist Willanny Darias in recital at Americas Society.
Overview
Pre-registration for tonight's event is now closed. Box office will open at 6:15 PM in the lobby, cash and all major credit cards accepted.
Admission: FREE for AS and YPA Members; $20 for non-members. No additional fees will be charged when purchasing online. $10 tickets will be available for purchase at the door for students with ID. YPA members who wish to register for this event should email Martha Cargo at mcargo@as-coa.org
Not yet a member? Join NOW! For information on YPA membership, click here.
Young Cuban pianist Willanny Darias presents a solo recital at Americas Society.
Program
| | |
| --- | --- |
| Isaac Albéniz | El albaicín from Iberia, Book III |
| Robert Schumann | Symphonic Etudes op. 13, posthumous |
| Claude Debussy | Reflets dans l'eau from Images, Book I |
| Ferruccio Busoni | Sonatina no. 6, BV 284, Chamber Fantasy on Bizet's Carmen |
| Tania León | Momentum (1985) |
| Alberto Ginastera | Sonata no. 2, op. 53 (1981) |
Read more in the printed program (PDF).
Darias performs Scriabin's Sonata no. 3 op 23.
About the artist
Willanny Darias (b. 1993, Havana) graduated from Manhattan School of Music (MSM) in 2014 with a Bachelor of Music under the tutelage of Dr. Solomon Mikowsky, where she was the recipient of the International Advisory Board Scholarship. Recent performances include an appearance with Cuba's National Symphonic Orchestra (Cesar Franck's Symphonic Variations); solo recitals in Cuba and New York; and other performances at the Juilliard School and Weill Recital Hall at Carnegie Hall, as part of the Young Musicians Concert organized by the AMT League. She also frequently performs both vocal and instrumental chamber music.
Darias began her piano studies at age 4 with Professor Rosalia Capote and was trained in solfège from age 5 with Professor Lucía Varona. At 7, she started at the Escuela Elemental de Músiva Manuel Saumell and made her first-ever public performance at the Teatro Amadeo Roldán. She had her symphonic debut at 13 with Mozart's Piano Concerto no.12 in A major;
 at 14, renowned Russian pedagogue Dr. Stanislav Pochekin invited her to the music and dance course held in Andorra.
 She was later accepted into Cuba's Escuela Nacional de Arte, where she studied piano with Dr. Teresita Junco and Harmony and Musical Analysis with Dr. Iliana García. That same year, she performed Tchaikovsky's first Piano Concerto with Cuba's Orquesta Sinfónica Nacional de Cuba, conducted by Mexican maestro Eduardo Sanchez Zuber, who later invited her to tour in Mexico with the Orquesta Sinfónica de Michoacan, with a final performance at the Sala Nezahualcóyotl (Mexico City). 
In 2010 she won first prize at the Unión de Escritores y Artistas de Cuba Piano Competition, Cuba's most prominent national classical music event, and was awarded all special mentions and recognitions by the jury, becoming the youngest performer ever to win this competition.
Her other awards include five grand and first prizes in national and provincial contests held in Cuba; First Prize at the Maracaibo International Piano Competition (Venezuela); and First Prize at the Bradshaw and Buono International Piano Competition in New York.
This performance is part of Cuban Culture Festival New York, presented by the American Friends of the Ludwig Foundation of Cuba.
In collaboration with: