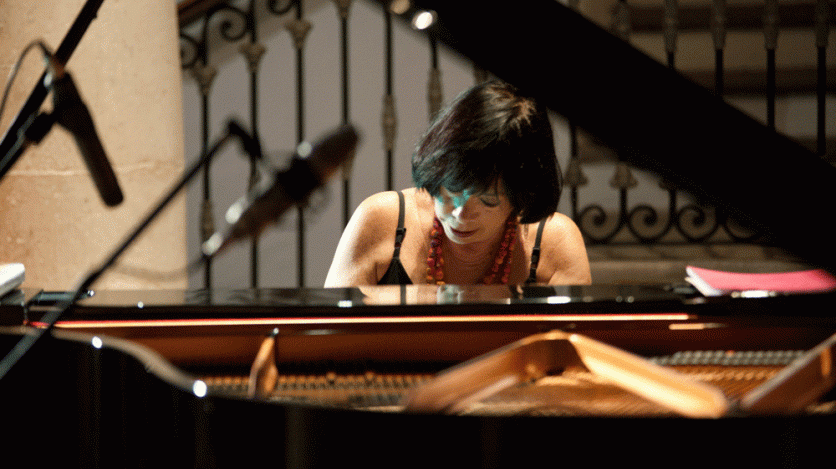 (Image: Guillermo Martínez Acebo)
Concert: Ana Cervantes
Music of the Americas presents pianist Ana Cervantes in a solo recital at the Americas Society.
Overview
Pre-registration for this event is now closed. The box office will open at 6:15 PM tonight.
Admission: FREE for AS and YPA Members, $20 for non-members., $10 student tickets will be available for purchase at the door with ID. YPA Members who wish to register for this event should email Martha Cargo at mcargo@as-coa.org.
Not yet an AS Member Join NOW! More information on YPA Membership can be found here.
Ana Cervantes is one of Mexico's leading advocates for new music. Cervantes will perform works from her recent commissioning/recording project, Canto de la Monarca: Mujeres en México (Song of the Monarch: Women in Mexico, Quindecim Recordings), which features new pieces by 16 composers from six different countries, inspired by important women in Mexican history.
Repertoire
| | |
| --- | --- |
| Silvia Berg (Brazil) | El sueño ... el vuelo (2010)* |
| Joelle Wallach (USA) | Lágrimas y locuras, mapping the mind of a madwoman (2011) |
| Alba Potes (Colombia/US) | Desde el aire: seis instantes (2010) |
| Mario Lavista (Mexico) | Mujer pintando en cuarto azul (2013) |
| Charles B. Griffin (USA) | ...like water dashed from flowers... (2010)* |
| Georgina Derbez (Mexico) | Un vuelo para Ana (2011) |
| Paul Barker (UK) | La Malinche (2010)* |
| Jack Fortner (USA) | Retrato de Malintzin (2010)* |
| Anne LeBaron (USA) | Creación de las Aves (2011) |
| Gabriela Ortiz (Mexico) | Preludio y Estudio (2011) |
*NYC premiere
Read more in the printed program (PDF).
About the artist
Critics praise pianist Ana Cervantes as "a physical, emotional performer with master of tone and color" (Newark Star-Ledger), as an artist of "commanding intensity" (MusicWeb International, UK),  with "great interpretive qualities, enormous passion" (unomásuno, Mexico); and as "ambassadress for the music of Mexico" (Independent on Sunday, UK). An alumna of Bard College and a former Fulbright-García Robles Senior Scholar, Cervantes recently released two CDs as part of the Monarca project. She cites Joan Tower and the late Theodore Lettvin as her most important teachers. An active teacher and performer, Cervantes is currently based in Guanajuato, Mexico.
Her discography also includes Agua y Piedra: músiva reciente de México (Water & Stone: Recent Music from Mexico, 2004), featuring world premieres by seven contemporary Mexican composers, and Amor de la Danza (Love of Dance, 1999), a mixed program of recent and staple works from the solo piano repertoire.