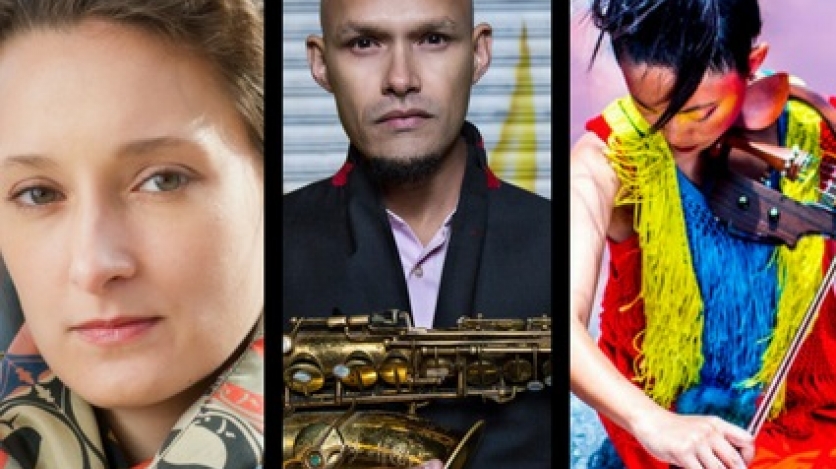 (Images: Courtesy of the artist, Jimmy Katz, Musuk Noite)
Composers Now: Dialogues
Music of the Americas presents an evening of composer dialogues, featuring Zosha Di Castri, Pauchi Sasaki, and Miguel Zenón, in collaboration with Composers Now, hosted by Tania León.
Overview
Admission: Free and open to the public. Pre-registration required.
Not yet a member? Learn how to become a Cultural Circle member.
Music of the Americas presents an evening of composer dialogues, featuring Zosha Di Castri (Canada), Pauchi Sasaki (Peru/Japan), and Miguel Zenón (Puerto Rico), hosted by Composers Now founder/Artistic Director Tania León.
About the composers
Zosha Di Castri is a Canadian composer/pianist living in New York. Her work (which has been performed in Canada, the US, South America, and Europe) extends beyond purely concert music including projects with electronics, sound arts, and collaborations with video and dance. She has worked with such ensembles as the San Francisco Symphony, Montreal Symphony Orchestra, the National Arts Centre Orchestra, the L.A. Philharmonic, the Chicago Symphony Orchestra, the International Contemporary Ensemble, Wet Ink, Ekmeles, Nouvel Ensemble Moderne, and Talea Ensemble among others. Zosha is currently an Assistant Professor of Music at Columbia University.
Peruvian-Japanese composer Pauchi Sasaki weaves styles and disciplines in her creative process. Her work reflects a great interest for interdisciplinary research that induces the interaction between artwork, space, and audience. She collaborates actively with projects linked to dance, film, theater, installation and multimedia performances. As a performer and composer, she has been invited to several festivals in Chile, Japan, Peru, Spain, Switzerland, and the United States. Sasaki was awarded with two "Best Original Music" awards from the XV International Latinoamerican Film Festival of Lima and the National Film Council of Peru. Pauchi graduated from the Electronic Music and Recording Media MFA program at Mills College, Oakland.
Multiple Grammy Nominee and Guggenheim and MacArthur Fellow Miguel Zenón represents a select group of musicians who have masterfully balanced and blended the often contradictory poles of innovation and tradition. Widely considered as one of the most groundbreaking and influential saxophonists of his generation, he has also developed a unique voice as a composer and as a conceptualist, concentrating his efforts on perfecting a fine mix between Latin American folkloric music and jazz. Born and raised in San Juan, Puerto Rico, Zenón has released nine recordings as a leader, including the Grammy-nominated Alma Adentro (2011) and Identities Are Changeable (2014). As a composer he has been commissioned by SFJAZZ, The New York State Council for the Arts, Chamber Music America, The John Simon Guggenheim Foundation, Peak Performances, PRISM Quartet, and many of his peers. Zenón has given hundreds of lectures and master classes at institutions all over the world, and is a permanent faculty member at New England Conservatory of Music. 
About Dialogues
Dialogues is an innovative new initiative comprising inspiring performances, thought-provoking conversations, and stimulating exchanges of ideas between composers, performers and audiences. Occurring in each borough of New York City, Dialogues is a series of events that will focus on a different theme each year. The theme for the inaugural year was "The impact of the arts in our society."
About Composers Now
Composers Now empowers all living composers, celebrates the diversity of their voices and honors the significance of their contributions to the cultural fabric of society. Founder and artistic director Tania León has led the organization since 2010. The organization features a broad spectrum of performances in concert halls, jazz mobiles, opera stages, experimental spaces, conservatories, museums, and other musical venues.
In collaboration with: