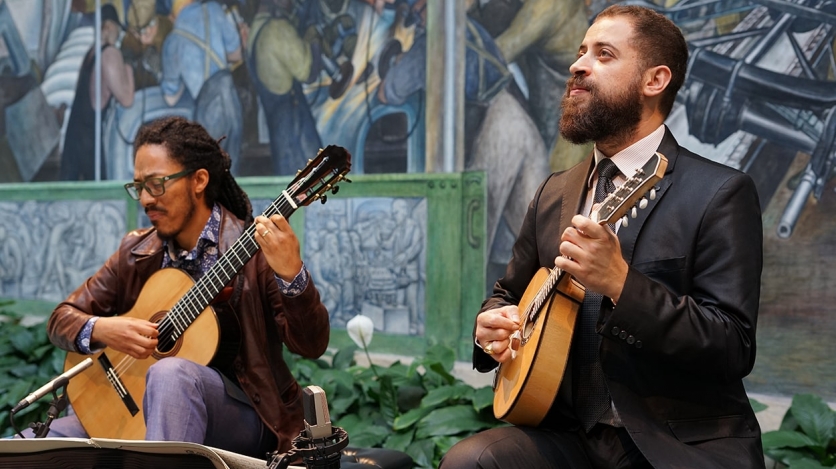 João Luiz - Danilo Brito. (Image courtesy of the artist)
CANCELLED: João Luiz and Danilo Brito—Esquina de São Paulo
The Brazilian virtuosos release their latest collaboration. 
Overview
Due to circumstances beyond our control, this event has been cancelled.
Remember to follow us to watch this and other exciting performances. 
The virtuoso duo of mandolinist Danilo Brito and guitarist João Luiz present their first album Esquina de São Paulo (Street Corner of São Paulo), showcasing the vibrant instrumental music of Brazil with compositions by Danilo Brito and giants such as Pixinguinha and Jacob do Bandolim, arranged by João Luiz. The two musicians first met in 2004 as contestants for Brazil's prestigious award for music, the Prêmio Visa de Música Popular Brasileira. They met again only 13 years later, this time in New York. Danilo invited João to play with him as a special guest at Dizzy's Club Coca-Cola at Jazz at Lincoln Center. Their instant creative chemistry convinced both to plan a future for a new duo. In 2018, the duo toured the United States presenting repertoire chosen by Danilo and arranged by João Luiz and concluded with a recording session in a church in Scarsdale, New York. This material became the album Esquina de São Paulo, co-produced by multi-Grammy award winner Kabir Sehgal and released on the Zoho Music label, in which the duo deliver their version of Brazilian instrumental music, marked by infectious rhythms, sparkling counterpoint, and shimmering tone.
Danilo Brito is an award-winning wizard of the mandolin and an authority in the art of playing Brazilian music. He presents a work that spans more than 150 years of music, inspired to blossom anew in the 21st century in his repertoire and his own compositions. Nationally and internationally acclaimed as one Brazil's most important musicians, Brito is recognized by remarkable musicians, such as Guinga, who said, "He is a rarity of the music of the whole world. A genial thing. An absurdity. If God played the mandolin, it would sound like him." Touring abroad since 2005, Brito has presented his music in the Americas, Europe, and Asia. In the United States, he has played to full houses at famous jazz clubs, art centers, national festivals, and on national radio such as NPR Music's Tiny Desk Concert, the Savannah Music Festival, Spoleto Festival USA, the Ellnora Guitar Festival at Krannert Center of the University of Illinois, Jazz at Lincoln Center in New York, the Mondavi Center for Arts in California, and the Kennedy Center in Washington DC. The legendary American mandolinist, David Grisman, has invited Brito several times to teach at the Mandolin Symposium and says, "Danilo is, in my estimation, one of the world's great practitioners of the art of mandolin playing." While live concert work has been made impossible by virtue of circumstances, Brito found a way to communicate his art online. His YouTube channel is filled with musical performances and presentations of his music knowledge, with subtitles in several languages. Started only two years ago, the channel reached more than 55,000 subscribers worldwide. Brito has eight released albums featuring some of the great names of Brazilian music and has been a guest on many other recordings. His album Da Natureza das Coisas was chosen as a "Top of the World" by Songlines Magazine in 2020. In his review of Brito's performance at the Savannah Music Festival, Joshua Peacock summed up what he had heard: "Brito's presentation was a sheer display of his virtuosic musicianship and every other cheap accolade I can bestow in words that will always fall short." A completely self-taught musician, he started playing at age three and developed his own technique by listening to his father's old LPs. Since age eight, he participated in traditional rodas de choro (gatherings to play) with outstanding musicians, practicing repertoire, and developing his virtuosity, improvisation, syncopation, and an intense expression of feeling. By age 13, he had started his professional career, recorded his first album, Moleque Atrevido, and gained notoriety in the print press and participating in numerous television programs. His virtuosity was such that many referred to him as the reincarnation of the great master of Brazilian mandolin, Jacob do Bandolim. At 19, in 2004, he won Brazil's most prestigious award for music, the Prêmio Visa de Música Popular Brasileira, out of a field of 500 experienced musician entrants.
Two-time Latin Grammy nominee guitarist, educator, and composer João Luiz, began to play the popular music of his native Brazil professionally during his childhood and was later trained in classical guitar by his mentor, Henrique Pinto. Winner of the 2006 Concert Artists Guild Competition as a member of the critically acclaimed Brasil Guitar Duo, João has performed extensively in the United States, Asia, Europe, and Latin America. As a performer and composer, João is equally at home with classical, Brazilian, and world music; his solo guitar, guitar ensemble and chamber music repertoire covers all the main works in the guitar literature from Dowland to Berio and Brazilian rhythms from choro to baião. His versatility led him to be chosen to collaborate with Yo-Yo Ma and Carlos Prieto on a project to celebrate the 75th anniversary of the Cuban composer Leo Brouwer in a landmark concert in Cuba in 2014.
His arrangements and compositions have been recorded and played by Marina Piccinini, Fábio Zanon, Paulo Martelli, Quaternaglia, Olson/De Cari Duo, Paquito D'Rivera, Clarice Assad, Bridget Kibbey, Jiji, Sybarite 5, The Newman & Oltman guitar duo, Aquarelle Guitar Quartet, and the New York City Classical Guitar Society. Luiz's Harp Concerto Recife written for Bridget Kibbey was premiered by the Orlando Philharmonic Orchestra in 2019. Recent commissions include works for the USC Thornton School of Music guitar department, Conjunto Sicarú, GFA, and Duo Sonidos. João has recorded more than 15 CDs playing solo, duo, trio, and in quartet, most of which have featured his arrangements of classical or Brazilian works. João also formed the Trio Virado in 2011 with flutist Amy Porter and violist Juan-Miguel Hernandez to promote contemporary Latin American chamber music. The first CD of the trio, Mangabeira was released in the fall of 2015 featuring world premiere recordings of works written specially for the trio by Assad, Hand, and Brouwer. João's most recent solo album features 20th century guitar works by Brazilian composers such as Gnattali, Guarnieri, and Gismonti.
João holds a master's degree from Mannes College, and as the recipient of the Augustine Foundation scholarship, he earned his doctoral degree from the Manhattan School of Music. Eager to expand the repertoire of his instrument, João has commissioned and premiered works written for him by Sérgio Assad, Leo Brouwer, Clarice Assad, David Leisner, Paulo Bellinati, Marco Pereira, Ronaldo Miranda, David Sampson, and Frederic Hand. João is the director of chamber music at CUNY Hunter College and also teaches guitar at Stony Brook University and Mannes College.
Funders
The MetLife Foundation Music of the Americas concert series is made possible by the generous support of Presenting Sponsor MetLife Foundation.
The Spring 2023 Music program is also supported, in part, by public funds from the New York City Department of Cultural Affairs in partnership with the City Council, by the New York State Council on the Arts with the support of the Office of the Governor and the New York State Legislature, and by the Howard Gilman Foundation. 
Additional support for this concert comes from The Augustine Foundation.