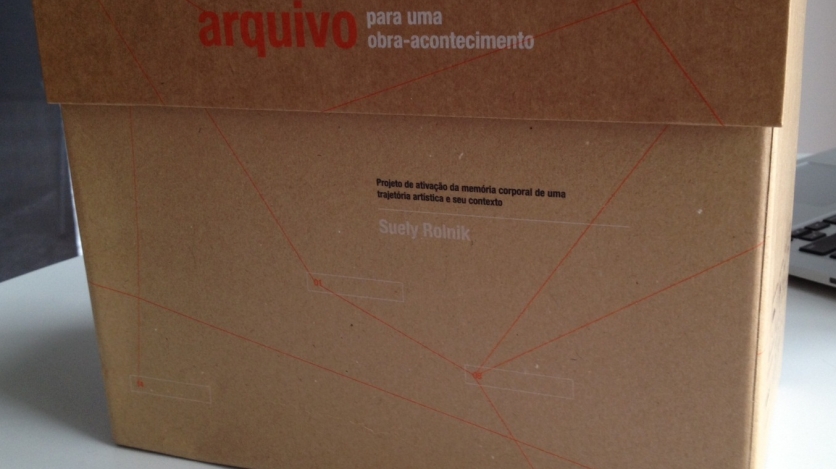 Arquivo para uma obra-acontecimento by Suely Rolnik.
CANCELED: Beyond the Colonial Unconscious: Discussion with Suely Rolnik
Brazilian sociologist and psychologist Suely Rolnik will discuss her work on artist Lygia Clark.
Overview
---
This event has been canceled.
---
Dr. Suely Rolnik will analyze the history, significance, and meaning of archives in conceptual art during the 1960s and 1970s, specifically in Latin American countries under military dictatorships. Within the context of "unconscious colonial repression," she will discuss the focus on archives as a means to reactivate poetic and political forces.
According to Rolnik, the globalized art world has been overtaken in recent decades by a true obsession with investigating, producing, exhibiting, and acquiring archives. The main target has been experimental artistic proposals from the 1960s and 70s–especially in Latin America, where the political is embedded in the poetics itself. What has caused the emergence of this desire in the current context? What politics of desire move the different archiving initiatives and their modes of presentation? How, when, and to what extent do the different attitudes adopted and the devices they invent create conditions for these initiatives to activate those artistic practices thinking in the present–necessarily under different forms, but with a similar degree of density? These are some of the questions that will be raised. Their scope is not limited to the artistic proposals of the past, but extends to each and every work that does not start and end in the object and only takes place as an event, holding a power to propagate the art virus.
Brazilian psychoanalyst, art and cultural critic, and curator Suely Rolnik has degrees in sociology and philosophy from the Université Paris VIII and degree, master and D.E.S.S. in clinical human sciences from the Université Paris VII. She obtained her doctorate in social psychology from Pontifícia Universidade Católica de São Paulo (PUC-SP) in 1988. Her main research field is the politics of subjectification with a cross-disciplinary perspective, focusing especially on contemporary art in its interface with politics and psychoanalysis. She is based in São Paulo, Brazil, where she has a private practice in psychoanalysis. She teaches at PUC-SP and is a visiting professor at the Independent Studies Program at the Museu d'Art Contemporani de Barcelona (MacBa) and lectures regularly and other international venues. She is the leading expert on the experimental artistic practices of Lygia Clark: she curated an exhibition on Clark at the Musée des Beaux-Arts in Nantes in 2005 and at the Pinacoteca do Estado de São Paulo in 2006, and has created an archive initiative on the Brazilian artist's work (in which she made 65 films of interviews convoking the body memory of the Clark's propositions and its cultural environment) and curated this archive in exhibitions in different countries. Among her books, she is the author of Antropophagie Zombie / Manifeste Anthropophage (BlacJack, Paris, 2012), Archivmanie / Archive Mania (Documenta 13, 2011) and, with Félix Guattari, of Micropolítica. Cartografias do desejo (1986; 12th edition 2011), published in seven countries (in the USA by Semiotext, 2006).