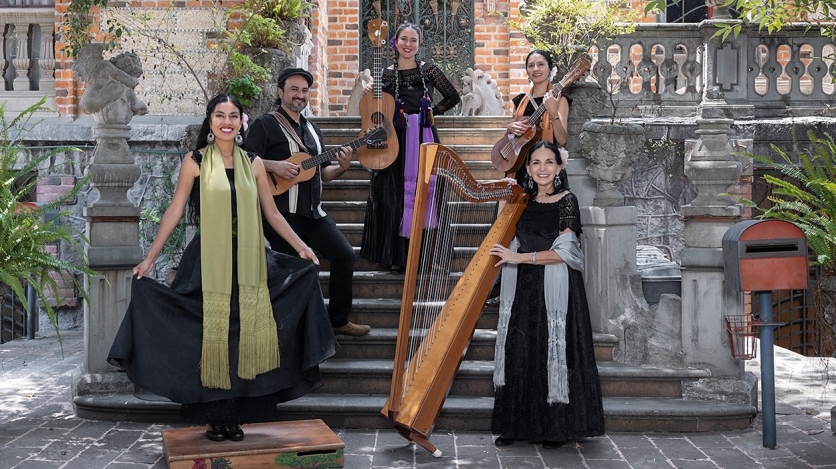 Caña Dulce y Caña Brava. (Image: Irene Barajas)
Caña Dulce y Caña Brava
The female-led son jarocho band makes its Music of the Americas debut. 
Overview
On October 25, we will host this concert in person, and tickets are free. 
Registration is CLOSED for this event as tickets are SOLD OUT.  
Video of the concert will be released at a later date. Remember to follow us to watch this and other exciting performances.  
Caña Dulce y Caña Brava are exceptional performers of son jarocho, a traditional Mexican expression that combines music, dance, and poetry. With a deep connection to tradition, the group delivers poetic messages with a feminine perspective, offering a unique angle in a traditionally male-dominated scene. Thanks to their dedication, innovation, and perseverance, the group has established itself as a benchmark for son jarocho, bringing innovation to traditional Mexican music. The musical virtuosity of its members is deeply rooted in the jarocho tradition, where all of them have learned directly from old masters and have developed and proven their skills on national and international stages. Proudly representing their culture around the world since 2007, the group has been invited to perform throughout the world. They have also collaborated with well-known artists such as Lila Downs, Jorge Drexler, and La Santa Cecilia, and are commonly invited to represent Mexico in Cultural Diplomatic missions, such as the World International Expo in Dubai 2022.
Adriana Cao Romero and Raquel Palacios Vega started the group in 2007, motivated by their passion for music, their lifelong friendship, and their desire to create a son jarocho group with a feminine perspective. They took the name from a song by Patricio Hidalgo, "La Caña," which emphasizes the duality of the sugarcane, a crop commonly cultivated in the region of Veracruz, that offers the sweet of its taste through the travails of its harvest. The son jarocho tradition is a story about migration that started in the region of Veracruz, the land where Spanish and African arrived to the American continent 500 years ago, and eventually coexisted with the native populations. The mix of these cultures caused the rise of a new form of expression, synthesized as son jarocho. The songs of this tradition, called "sones," have survived centuries by oral transmission and are still alive thanks to dedicated musicians, dancers, and poets. Caña Dulce y Caña Brava are now tradition-bearers with the mission of continuing the echo of sounds that came together so long ago, adding their own feelings and composing new verses to create a contemporary—and feminine—perspective. The audiences will have a unique opportunity to listen to this music from outstanding performers who in the near future will be recognized as masters—maestras in their own right—of the son jarocho tradition.
The tour for Caña Dulce y Caña Brava in the United States has been supported by the Mexican Minister of Culture and Ibermúsicas.

About the Band
Adriana Cao, harp
Adriana was born in the port city of Veracruz and started her musical studies as a child. She is the best-known harp player in the son jarocho universe, learning the tradition directly from maestros such as Pánfilo Valerio, Nicolás Sosa, and Andrés Alfonso Vergara, among others. Adriana has been invited to perform with the most representative groups of son jarocho, including Zacamandú, Mono Blanco, Chuchumbé, and Tembembe Ensamble Continuo.
Raquel Palacios, jarana
A distinguished singer and jaranera, Raquel was born into one of the most respected dynasties of son jarocho: the Vega family. Native of Boca de San Miguel in Veracruz, she has lent her unique voice to diverse musical projects such as Los Utrera and Son de Madera, and has collaborated with Jorge Drexler, Ernesto Anaya, and Geo Meneses, among others. In 2012, Raquel, alongside her family, received the National Prize of Sciences and Arts for the cultural contributions of the Vega and Utrera families. 
Violeta Romero, jarana and dancer
Born in Mexico City, she studied in Mexico, Guinea, Canada, and the United States. Violeta is known for a dance style that is both powerful and elegant. Over the years, she has performed with Tamakán, Maíz Negro, and Los Utrera. Currently, in addition to her work with Caña Dulce y Caña Brava (2013–), she is a cultural producer and cast member in Pachuquísmo (a dance project based in San Francisco). 
Anna Arismendez, leona
Born and raised in Austin of Mexican descent, Ana encountered son jarocho for the first time in 2010. Since then, she has been an avid student of the tradition, participating in fandangos and learning directly from different maestros and collectives. She embraced the guitarra grande (also called "leona"), a bass instrument not commonly played by women, which she plays with charm and strength. Anna lives in Mexico City and has been a member of Caña Dulce y Caña Brava since 2016. 
Alonso Borja, requinto
Alonso joined the band in 2023 but has been an active member of the Mexican music tradition since 1996, when he founded Chéjere, a widely recognized band mixing tradition with innovation, which has performed at national and international festivals. With a major in classical guitar, he has been a member of the Mexican National System of Creators since 2019, and has received awards for his compositions, such as the Premio Ibermúsicas a la Creación de Canciones. 
Funders
The MetLife Foundation Music of the Americas concert series is made possible by the generous support of Presenting Sponsor MetLife Foundation. 
The Fall 2023 Music program is also supported, in part, by the Howard Gilman Foundation, by public funds from the New York City Department of Cultural Affairs in partnership with the City Council, by the New York State Council on the Arts with the support of the Office of the Governor and the New York State Legislature, and by The Fan Fox and Leslie R. Samuels Foundation. 
This concert is supported by the Mex-Am Cultural Foundation.