Brazil-U.S. Relations in 2020 and Beyond
Americas Society
/
Council of the Americas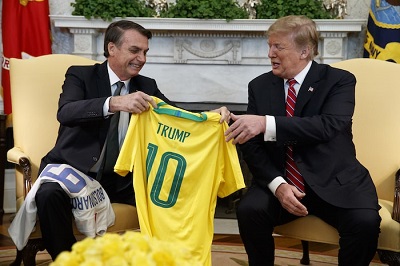 The presidential election in the United States will have important implications for Brazil's economy and its prospects for recovery from the pandemic. Where does the bilateral relationship stand now? What are the political scenarios that Brazil faces given either outcome of the U.S. election? Join us for a conversation on the future of Brazil-U.S. relations.
Speakers:
Sergio Amaral, Trustee at CEBRI, former Brazilian Ambassador to the United States
Brian Winter, Editor-in-Chief, Americas Quarterly @brazilbrian
Cecilia Tornaghi, Managing Editor, Americas Quarterly @ctornaghi (moderator)
To watch the panel, come back to this page at the time of the event. No registration is required. You can submit a question during the event via Twitter, as well as via YouTube or Livestream.
For questions about the event, please contact Leonie Rauls at lrauls@as-coa.org.
For press inquiries, please contact mediarelations@as-coa.org.