Brainfood Speaker Series: Patrick J. McGinnis and The 10% Entrepreneur
Americas Society
/
Council of the Americas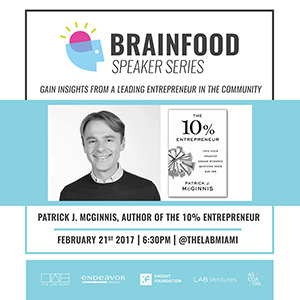 What if there were a way to have the stability of a day job with the excitement of a startup? All of the benefits of entrepreneurship with none of the pitfalls? In The 10% Entrepreneur, Patrick McGinnis shows you how, by investing just a tenth of your time and resources, you can become an entrepreneur without losing a steady paycheck. McGinnis explains the multiple paths you can follow to invest your cash, time, and expertise in a startup—including as a founder, angel investor, adviser, or aficionado. Published by Penguin Portfolio, the book profiles entrepreneurs across the globe, including several entrepreneurs from Latin America.
YPA Miami is proud to join forces with Endeavor, The LAB Miami, LAB.Ventures, and Knight Foundation for this month's Brainfood Speaker Series launching Patrick's book. 
Speakers:
Patrick McGinnis, Author, The 10% Entrepreneur; Managing Partner, Dirigo Advisors; Steering Committee Member, YPA
Matt Haggman, Miami Program Director, Knight Foundation (moderator)
Free admission for YPA members; $20 for nonmembers.
To register, please click here. YPA members, please contact us at YPAMiami@as-coa.org for free admission. 
Not a member yet? Learn how to become a YPA member.
Program Information: Francisco Martinez |fmartinez@as-coa.org |1-305-779-4984