Registration: 5:00 p.m. to 5:30 p.m.
Presentation and Discussion: 5:30 p.m...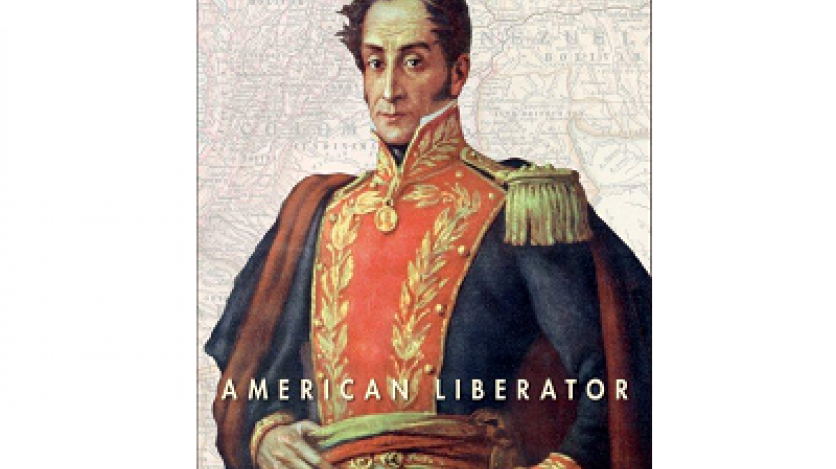 Book Launch – Bolívar: American Liberator by Marie Arana
Please join AS/COA for the launch of a book focusing on the life of Simón Bolívar.
Overview
Please join Americas Society/Council of the Americas for the launch of Marie Arana's latest book Bolívar: American Liberator (Simon & Schuster) by Marie Arana. Eric Farnsworth, vice president of Council of the Americas, will interview the author and moderate a Q&A session with the audience.
About the book:
Two hundred years after the start of his first revolutionary campaign, Simón Bolívar is revered throughout Latin America as the Great Liberator, who freed six countries (Bolivia, Colombia, Ecuador, Panama, Peru, and Venezuela) from Spanish rule. Brilliant, dashing, and intense, Bolívar was a fearless warrior, ingenious strategist, visionary statesman, canny politician, masterful diplomat, impassioned abolitionist, and talented writer. And his personal life was as tumultuous as his public one. 
Born to privilege, Bolívar was orphaned at a young age, raised largely by a black nurse, and schooled by a revolutionary tutor. He lost his beautiful young wife to yellow fever shortly after they married, and then had a succession of mistresses. A descendant of Spanish aristocrats who was rumored to have mixed-race ancestry, Bolívar ultimately proclaimed himself a dictator, escaped an assassination attempt that was thwarted by his lover, and fell into disgrace and poverty before dying of tuberculosis at the age of 47. With a stature throughout South America as great as George Washington's in the United States, he was invoked regularly in his native Venezuela by that nation's late president, Hugo Chávez.
Yet Bolívar remains relatively little known in North America, in part because there has been no major popular biography published about him in decades. Now, acclaimed author and journalist Marie Arana brings one of the most monumental figures in world history to vivid life in her meticulously researched and elegantly written Bolívar: American Liberator. The bilingual daughter of a Peruvian father and an American mother—and descended from ancestors who fought on both sides during Bolívar's campaign against Spain—Arana combed through thousands of primary documents to create a fresh, revelatory, and provocative account of Bolívar and the continent he profoundly transformed.
"Finally, Bolívar gets the sweeping biography he deserves. He was the greatest leader in Latin American history, and his tale is filled with lessons about leadership and passion. This book reads like a wonderful novel but is researched like a masterwork of history." — Walter Isaacson, author of Steve Jobs
Registration Fee: This event is complimentary for all registrants. Prior registration is required.
Copies of the book will be available for sale. Arana will sign copies from 7:00 p.m. to 7:30 p.m.
Event Information: Guillermo Zubillaga | gzubillaga@as-coa.org | 1-212-277-8362
COA Corporate Membership Information: Monica Vieira | mvieira@as-coa.org | 1-212-277-8344
Press Inquiries: Adriana La Rotta | alarotta@as-coa.org | 1-212-277-8384
Cancellation: Please contact Juan Serrano-Badrena at jserrano@counciloftheamericas.org before 3:00 p.m. on Monday, June 3.