Book Launch: Bill Meehan, Engine of Impact
Americas Society
/
Council of the Americas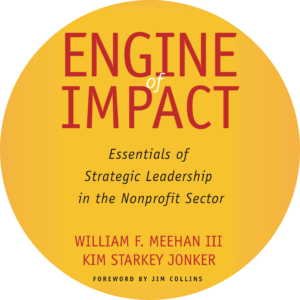 Join Young Professionals of the Americas (YPA) and Stanford alums for a stimulating interview and conversation with Bill Meehan, a lecturer in strategic management at the Stanford Graduate School of Business (GSB), and his colleague Kim Jonker. The coauthors will launch the publication of their acclaimed new book (to be released on November 14), with a forward by Jim Collins, Engine of Impact: Essentials of Strategic Leadership in the Nonprofit Sector. Zia Khan will interview Meehan and Jonker, followed by an audience Q&A and book signing.
Speakers:
Bill Meehan, Coauthor & Lecturer in Strategic Management, GBS
Kimberly Jonker, Coauthor & Lecturer in Strategic Management, GBS
Zia Khan, Vice President, Initiatives and Strategy, The Rockefeller Foundation (Moderator)
This event is complimentary for AS, COA, President's Circle, and YPA members. $15 for nonmembers. Registration is required.
YPA is an international network that provides a platform for young professionals in their 20s and 30s to connect around the latest trends in the Americas through its New York City and Miami chapters. Not a member? Join YPA today for complimentary access to this event.
Event Information: Rodrigo Riaza | rriaza@as-coa.org | 212-277-8376
COA Corporate Membership Info: Natalia Williamson | nwilliamson@as-coa.org | 212-277-8374
Note: View a list of COA corporate members.
Sponsorship Opportunities: Ana Calderon | acalderon@as-coa.org | 212-277-8358
AS & YPA Individual Membership Information: Beckie Bintrim | bbintrim@as-coa.org | 212-277-8372
Press Inquiries:  Contact mediarelations@as-coa.org
Cancellation: Contact Juan Serrano-Badrena at jserrano@counciloftheamericas.org before 3:00 p.m. on Wednesday, November 15.