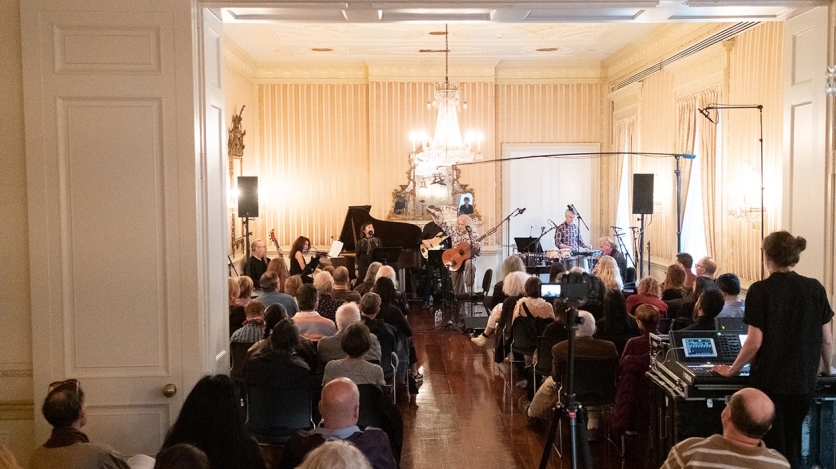 Arthur Kampela and Band. (Image: Roey Yohai Studios)
Arthur Kampela: Avant-Bossa
The Brazilian composer, guitarist, and singer brings his irreverent take on bossa nova to our stage. 
Overview
On May 19, we will host this event in person, and tickets are free. 
Registration is CLOSED for this event, but walk-ins are welcome as seats may still be available.
Video of the concert will be released at a later date. Remember to 
follow us
to watch this and other exciting performances. 
A native of Rio de Janeiro, composer/singer/guitarist Arthur Kampela was influenced by the Bossa Nova and "Tropicalista" movements—a politically oriented fusing of Brazilian traditional and popular music with Western rock and European avant-garde music by composers such as Ligeti, Berio, Stockhausen, Ferneyhough, Lachenmann, Sciarrino, and Cage, among many others. 
He is a Guggenheim Fellow, a Koussevitzky and Fromm foundations grantee, and he won the DAAD Artist-in-Residence Grant (Berlin, 2012). His compositions have been performed at international festivals of New Music by important soloists and ensembles, and he has won first prize at major South American Composition Competitions. 
In 1988, he produced his revolutionary avant-pop album "Epopéia e graça de uma raça em desencanto." The album is an experiment that mixes elements from the contemporary music language and Brazilian folk and traditional music. Kampela says about it: 
"My aim was to create new perspectives for the popular 'song,' working 'under its skin,' amplifying its conventions, deviating it from an obvious standpoint.' Pieces like the Itinerário...' ("Path of a Bass player under the South American Night") use collage-like techniques. "Epopéia" (the album's title track) is the first (atonal or pan-tonal) samba composed in Rio, Brazil. (BTW: I was censured by the television the first time it was broadcast!...) The "Rock à la Bartók" Tesão (which means - 'hard on') presents unrelenting changes of time signatures and theatrical qualities. Here, two lovers are trying to make love inside of a Volkswagen..."
In addition to pieces from Epopéia..., the program includes Kampela's avant-Bossas Novas like "Copacabana," "Desafi(a)ndonado," and "Garôta 21," which employ new structural ways to energize the traditional format. In them you will hear unusual time signatures and melodies that embrace dissonances and consonances. They are (hidden) homages to classics of the genre like Jobim's "Desafinado" or "Girl from Ipanema." Kampela's hybrid-avant-pop music has been heard in clubs, prestigious halls, and underground venues in New York, Rio de Janeiro, São Paulo, Mexico City, Strasbourg, Schwaz (Austria), etc. 
Recent compositions include the 30-minute work Antropofagia (2022) for electric guitar and large chamber ensemble, which was performed by the ensemble Contemporary Insights at the Hochschule für Musik und Theater "Felix Mendelssohn Bartholdy" in Leipzig; …between mouths and fingers… (2022) for five musicians, had its premiere at Sala Cecília Meirelles, in Rio de Janeiro by Abstrai Ensemble. O Impossível, an electrovocal piece (2022), was commissioned and sung by soprano and producer Doriana Mendes. Tak-Tak...Tak... (2016-17), commissioned by the DAAD/Ensemble Modern for large ensemble and Plásticas Sonoras (instruments created by Brazilian composer Walter Smetak) was premiered at the Alte Oper Frankfurt and at MaerzMusik Berlin on February and March 2017 by Ensemble Modern. Kampela is also one of the true innovators of contemporary guitar music. His Percussion Studies for solo guitar explores timbre, pitch, texture, and complex rhythmic designs combining traditional techniques with noise-oriented, percussive effects. 
Kampela holds a doctorate in composition from Columbia University. The New York Times has written: "Extraordinary pieces … Kampela's effects were fascinatingly inventive. The best was his use of a spoon to give the guitar a wavery, underwater sound." 
Kampela's music exists at the intersection of ergonomic and structural concerns, and grows in the interstices of micro-rhythms (Micro Metric Modulations) and extended instrumental techniques. Situations like a viola played by a guitarist, a guitar duo that starts playing on the back side of their instruments, the deconstruction of traditional forms (atonal sambas), or the theatrical reenactment of a rehearsal situation as in Probe generate a quality of urgency and uncanny beauty. 
Arthur Kampela Band 
Arthur Kampela: voice, guitar, and compositions
Doriana Mendes: soprano
José Moura: bass   
Denise Puricelli: piano and keyboard 
Gottfried Stoger: flute, sax, and clarinet   
Jay Elfenbein: cello and viola da gamba 
Mauro Refosco: percussion 
Program
Percussion Study II
Itinerary of a Bass Player Under the Sound - American Night
Mirrors
Garota 21
Adeus
Entre
Micro Percussion Study 4
Fulgura
Olhos
Kim-Kim
Des(a)fiandonado
Micropeça
Tesão
Valsa do Assassino
Samba Epopéia
Copacabana
Funders
The MetLife Foundation Music of the Americas concert series is made possible by the generous support of Presenting Sponsor MetLife Foundation.
This concert is supported, in part, by the National Endowment for the Arts.
The Spring 2023 Music program is also supported, in part, by the Howard Gilman Foundation, and by public funds from the New York City Department of Cultural Affairs in partnership with the City Council and from the New York State Council on the Arts with the support of the Office of the Governor and the New York State Legislature. Additional support for the Spring 23 season comes from the Association of Performing Arts Professionals' ArtsForward program, made possible through support from The Andrew W. Mellon Foundation, New Music USA's Organizational Development Fund in 2022-23, the Alice M. Ditson Fund of Columbia University, The Aaron Copland Fund for Music, and The Amphion Foundation, Inc.