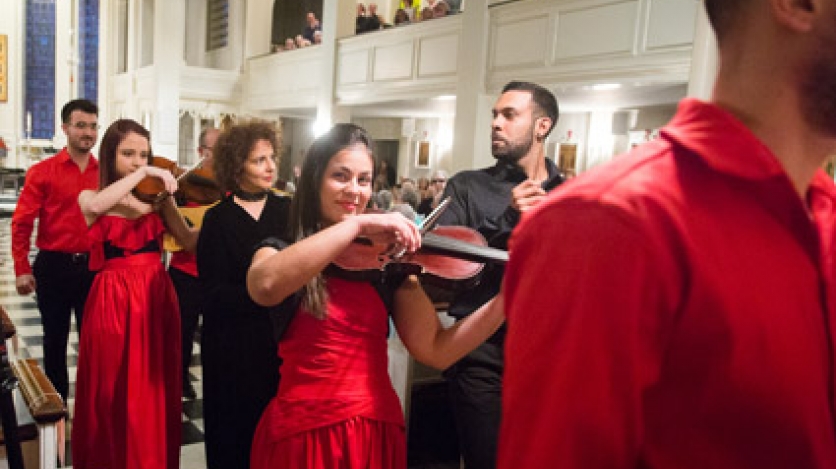 Ars Longa's debut at Music Before 1800. (Image: Roey Yohai)
Ars Longa: Baroque Music from Cuba and the New World
On their second U.S. tour, Cuban early music ensemble Ars Longa presents "Baroque Music from Cuba and the New World" at St. Paul's Chapel, Columbia University.
Overview
Registration for this concert is now closed due to overwhelming demand. A limited number of seats may become available at the door, but priority will be given to those registered.
Registrations will be honored until 5:45 pm.
Not yet a member? Learn how to become a Cultural Circle member.
On their second U.S. tour, Cuban early music ensemble Ars Longa presents "Baroque Music from Cuba and the New World," a program of villancicos (carols) by celebrated eighteenth century Cuban maestro de capilla Esteban Salas and baroque works from Bolivia.
This concert is part of GEMAS, a project of Americas Society and Gotham Early Music Scene devoted to early music of the Americas, and is co-produced with Music at St. Paul's, the sacred music program of the Office of the University Chaplain at Columbia University.

Ars Longa de la Habana in their NYC debut at Music Before 1800 (February 26, 2017)
About the artists
Ars Longa was founded in Havana in 1994 by Teresa Paz and Aland López, and since 1995, the organization has been part of the Office of the City Historian, where they maintain an office in Old Havana. Latin American and Cuban colonial music is the focus of their repertoire. Over the past twenty years, Ars Longa has performed regularly at the most prestigious music venues of the island and has given concerts and participated in international festivals in Spain, Italy, France, Sweden, Austria, Croatia, Slovenia, Venezuela, Mexico, and Ecuador. In addition to promoting the interpretation of early music in Cuba, Ars Longa hosts the annual international Esteban Salas Early Music Festival in Havana, which brings musicians and ensembles from around the world for concerts and masterclasses. The ensemble has released an impressive number of CDs—ten in all—that have won recognition and prizes in Europe from Diapason, Le Monde de la Musique, Télérama and Classica.
Soprano Teresa Paz Román, Ars Longa's co-founder and director, holds a masters degree in Spanish music from the University of Valladolid in Spain and serves as the director of the concert venue at the Church of San Francisco of Paula in Havana, which regularly presents early music concerts. In 1994, she and Aland López formed the early music group Ars Longa, the first early music ensemble in Cuba. She is also the founder and director of the annual Esteban Salas Early Music Festival, which brings early music players from around the world. It serves as a meeting place in Cuba that through workshops and conferences assists the development of early music performance and interpretation. Teresa was the first to initiate academic plans to teach early music in Cuba. To put her informed historical interpretation into practice, she established the Baroque Orchestra of the Escuela Nacional de Música, Havana. She has attended workshops in early music singing and interpretation with such international specialists as Josep Cabré, Evelyn Tubb, and Claudio Abbado. Teresa has been honored internationally for her recording projects of unknown works by Cuban and other Latin American composers.
In collaboration with: