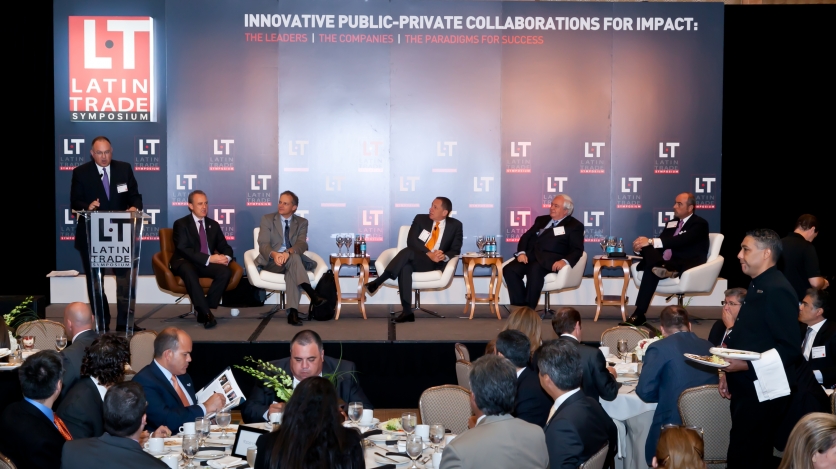 (Image: Latin Trade)
2015 Latin Trade Symposium: Success Through Innovation
AS/COA is partnering with Latin Trade for their annual symposium, taking place October 29 in Miami.
Overview
SUCCESS THROUGH INNOVATION:
NEW STRATEGIES, NEW MARKETS, NEW FACES
The annual Latin Trade Symposium, in partnership with AS/COA and the IDB, gathers the region's leading CEOs, financiers, government officials, and social entrepreneurs for discussion in Miami. Please click here to view the agenda.
Select speakers:
H.E. Horacio Cartes, President, Republic of Paraguay
H.E. Pedro Joaquín Coldwell, Secretary of Energy, Mexico
Katia Bouazza, Head of Latin America and Capital Financing, HSBC
Steve Crowell, CEO, PlusPetrol Resources
Augusto de la Torre, Chief Economist for LatAm, World Bank
Juan Domingo Beckmann, CEO, José Cuervo
Gustavo Grobocopatel, CEO, Grupo los Grobo
José Antonio Ríos, CEO, CELISTICS
José Juan Ruiz, Chief Economist, IDB
Pablo Sanguinetti, Chief Economist, CAF
Armando Senra, Managing Director, BlackRock
Woods Staton, CEO and Chairman, Arcos Dorados
Blanca Treviño, President and CEO, Softek
Alejandro Werner, Head of the Western Hemisphere Department, IMF
Please visit the official conference website for the most up-to-date information. You'll also find more details on the BRAVO Business Awards Gala, to be held later that evening.
Registration: AS/COA members enjoy a discounted rate of $450 for the Symposium. Please contact Ana Laura Miranda to register (click here).
Event Information: Ana Laura Miranda | amiranda@latintrade.com | 305-749-0882
In partnership with: