A Visit to Pernambuco's Suape Industrial Complex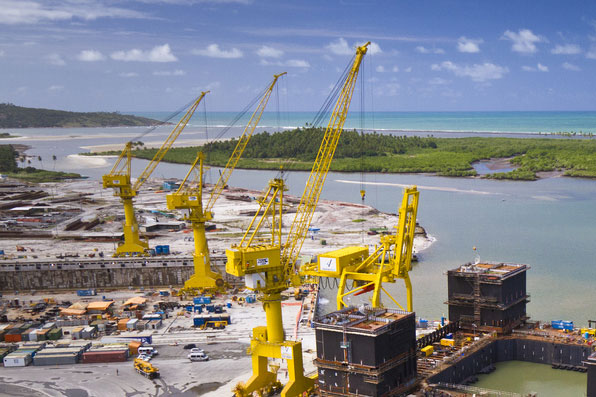 Tuesday, February 7, 2012
AS/COA Online's web team went to the Suape industrial complex outside of Pernambuco's state capital Recife today. Your correspondents were shown several sites in the 33,359 acre industrial park, meeting with a number of representatives and conducting interviews, which will be posted to the blog over the coming days.
Created 33 years ago, the port of Suape received around $2 billion in private investments in the first 28 years of its existence. However, over the last four years, investment has surged exponentially—Suape received close to $22 billion in private investments over this time; investors encouraged by Brazil's economic boom and Pernambuco's subsequent surging GDP growth.
The site hosts 120 companies, responsible for creating 25,000 direct jobs. Another 50 companies are setting up shop and investing $23 billion in Suape, which could potentially lead to 40,000 construction jobs and another 15,000 direct jobs being created. Over 160 ports connect to the deep-water port, which is strategically located in an area which allows ships to reach the east coast of the United States in a week and the European port of Rotterdam in nine days. Already a booming port, Suape last year received 430,000 containers and 11 million tons of goods went through the site, a 269 percent increase from 2003.
Businesses here operate a global scale. On site is the largest wheat mill in South America, owned and operated by Bunge, and the world's largest PET resin factory. The South Atlantic Shipyard, a vast, imposing structure taking up a large section of the coastline, is the largest in the Southern Hemisphere. On site government services mean there is a 24-hour turnaround time for ships, making it one of the fastest ports in Brazil.
But hurdles remain.
Pernambuco still struggles to keep up with growth-lead infrastructure needs. To remedy these growing pains, the government is investing $2 billion in new roads, railways, and other related projects over the next four years. One of these investments includes the Transnordestina Railway,  which will connect Suape to the Pecém port in Ceará state and the interior of the northeast region. Furthermore, a new steel plant at Suape will produce up to 1 million tons of metal per year to help meet local construction demand.
While Brazil works to become a world energy leader, the northeast of the country struggles to keep up with the historically prosperous south, where the majority of offshore oil has been found. In order to integrate the country's hydrocarbon infrastructure, Petrobras is building the Abreu e Lima Refinery at Suape, due for completion in 2013. The $13.5 billion project is a public-private partnership which aims to bring Brazil's pre-salt oil wealth to the northeast. The refinery will process up to 230,000 barrels of heavy oil per day. This would allow Brazil's north and northeast to become self sufficient in diesel.
Environmental preservation and sustainability is also a challenge. Suape Sustantável is a program created by the complex which will protect 59 percent of the port area as a nature reserve, including forests and mangroves. The complex will also establish a wind power plant, as well as a wind tower factory.
At AS/COA's Recife conference on February 8, participants will discuss these same types of opportunities and challenges on a regional scale. Attendees will also visit the Suape complex and tour the facilities. Business executives and government representatives will have the chance to share information on infrastructure projects in Brazil's northeast, and will discuss plans for future ventures.
Learn more:
Rachel Glickhouse is the editorial associate at AS/COA Online.