Poll Update: Neves and Rousseff Neck and Neck ahead of Brazilian Runoff
Three polls place the candidates in a statistical tie in the race to win the presidency on October 26.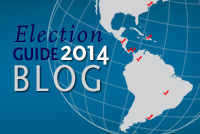 All signs point to a photo finish in Brazil's October 26 runoff vote, with polls placing Senator Aécio Neves and President Dilma Rousseff in a dead heat. A Datafolha survey conducted October 14 and 15—the day of and day after a presidential debate—published yesterday gives Brazilian Social Democracy Party (PSDB) candidate Neves 51 percent of voter intention against 49 percent for the president, who represents the Worker's Party (PT). With a two-point margin of error, the poll puts the candidates in a statistical tie. An Ibope poll—published yesterday and conducted October 12 through 14—gave the same results. A survey conducted over the past weekend by Vox Populi puts Rousseff ahead, with 51 percent of voter intention against 49 percent for Neves. Again, the margin of error ties up the PT and PSDB candidates. In the three polls, undecided votes ranges from 5 to 6 percent while blank votes range from 5 to 7 percent.
During the first-round vote on October 2, Rousseff won 42 percent of the vote and Neves earned 34 percent. But on October 12, Marina Silva, a former minister and environmentalist who finished third, threw her support behind Neves, the ex-governor of the state of Minas Gerais. 
Based on the polls, who will win is anybody's guess. But how the candidates fare in debates could play a role in the outcome, given that the two will spend more than four hours facing off before election day arrives. The first of the four debates took place Tuesday, and observers say neither candidate stood out as a clear winner, as Rousseff and Neves sparred over corruption concerns.