Poll Update: How a Mayor's Ouster Plays Out in Colombia's Presidential Polls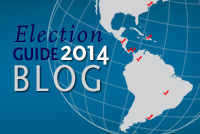 Two polls released this week indicate that President Juan Manuel Santos continues to lead the race for the presidency, though one survey shows his advantage ebbing. Meanwhile, the same poll found that the largest number of voters plan to cast a blank vote rather than any one candidate. Colombians will head to the polls on May 25.
A Cifras y Conceptos poll for Caracol Radio released March 31 shows that while President Juan Manuel Santos remains the top candidate with 23 percent, his lead declined by 8 points since late February. The Green Alliance's Enrique Peñalosa came in second with 13 percent—a four-point increase over the previous month. The Democratic Center's Oscar Iván Zuluaga was in third with 11 percent, showing a three-point bump since February. Meanwhile, 26 percent of voters said they planned to cast a "blank vote," and 13 percent remain undecided. In the case of a runoff, Santos would win against both Peñalosa and Zuluaga, though around 40 percent of voters said they would submit a blank vote in either scenario. Asked why they would submit a blank vote, 56 percent said it was a way to express discontent, and 21 percent said they didn't like any of the candidates.
Published on March 31, a National Consulting Center survey for news radio station CM& found that 26 percent of those polled plan to vote for Santos. Peñalosa had 18 percent, with Zuluaga at 14 percent. In the case of a runoff, the survey shows that Peñalosa would win with 41 percent over 36 percent for Santos. But against Zuluaga, Santos would win with a nine-point margin.
Colombia news site La Silla Vacía points out that Santos' March 19 move to remove Bogota Mayor Gustavo Petro from his post—after the local leader faced a battle to keep his seat—may have hurt the president's poll numbers. The article notes that in the Cifras y Conceptos survey, 60 percent of those polled disagreed with Santos' decision, and 46 percent disapproved of Santos' pick for interim mayor. Meanwhile, the survey showed that Peñalosa—who opposed Petro's ouster—has a higher approval rating than Santos, at 40 percent compared to the president's 35 percent. La Silla Vacía also observed that in the regional breakdown, 69 percent of Bogota residents say they will not vote for Santos.