Poll Update: FMLN Leads ARENA in El Salvador's Presidential Race
Wednesday, December 18, 2013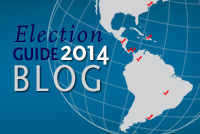 With eight weeks to go before El Salvador's presidential election, a December 11 poll by the University of Central America placed the governing party candidate ahead of the pack. Vice President and former guerilla commander Salvador Sánchez Cerén of the Farabundo Martí National Liberation Front (FMLN) leads with 38.4 percent against 33.4 percent for Norman Quijano of the main opposition party—the Nationalist Republican Alliance (ARENA). Ex-president Antonio Saca, formerly of ARENA but now leading the Unity coalition of conservative parties, polls third with 16.6 percent. Another survey released the same day by CS-Sondea gives Sánchez Cerén 39.2 percent, Quijano 34.2 percent, and Saca 15.8 percent. The election takes place on February 2.
No candidate appears to hold a commanding poll lead at this point to garner more than 50 percent to win, so the two top candidates will likely square off in a subsequent runoff. In November, Saca said: "It's an error to live or die by polls." But Tim's El Savador Blog shows him facing an uphill climb; the last four polls place Sánchez Cerén averaging at 34.1 percent, Quijano at 31.9 percent, and Saca at 16.1 percent.
The blog takes a closer look at the University of Central America (UCA) poll, noting that current President Mauricio Funes may be helping to lift Sánchez Cerén, given that voters gave Funes an average of 6.6 on a 10-point scale and 64 percent of respondents viewed the FMLN administration as having benefited El Salvador. On the other hand, the piece also points out that former FMLN commanders have not fared well in elections.
But what would happen in a runoff? Central American Politics points out that the UCA poll shows ARENA comes out just ahead of the FMLN in polling for a runoff, with 45.4 percent compared to 44.8 percent. "However, the difference is within the margin of error so let's not get too worked up about it just yet," writes University of Scranton Professor Mike Allison. "[I]t's still anybody's ballgame."
The first presidential debate takes place on January 12.