Poll Update: Despite Overall Tie, Rousseff Makes Gains amid Women, Wealthy
Brazil's president faces a tight runoff race against Aécio Neves on October 26.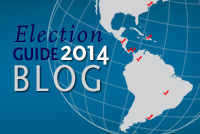 Ahead of Brazil's October 26 presidential runoff, the two candidates remain deadlocked in the polls. The latest Datafolha survey shows President Dilma Rousseff statistically tied with Aécio Neves, placing the president at 52 percent and Neves at 48 percent with a 2 percentage-point margin of error. When accounting for overall voter intention, around 5 percent plan to vote null or blank, and 4 percent are undecided. Nevertheless, the president saw gains over the past month in key demographics, including women and the upper class.
Since Datafolha's October 9 poll, Rousseff has gained among female voters, while Neves lost ground among youth. Among women, Rousseff gained five points, while Neves lost five. The Workers' Party (PT) campaign has sought to cast Neves as anti-women, given his accusations about the president during recent debates. The October 22 Datafolha survey showed 36 percent of voters find the Brazilian Social Democracy Party candidate more aggressive in his campaign.
Though Neves leads among the country's young voters, he saw waning support this month. Among 25- to 34-year-olds, Neves lost five points since Datafolha's October 9 survey, while Rousseff gained one. Among the youngest voter bloc of 16- to 24-year-olds, Rousseff rose three points over the same period, and Neves dropped by the same amount.
From October 9 to 21, the president saw an increase in support across the board when it comes to income levels, with the largest gain in the highest income category. Neves, meanwhile, saw his support go down across all four income levels. Regionally, the president maintains a comfortable lead in the north and northeast, traditionally strong for the PT. In the southeast—which includes the battleground states of Minas Gerais, São Paulo, and Rio de Janeiro—Neves leads by 8 points.
In Brazil, voting is mandatory, and voters can choose to cast a blank vote if they decide not to pick a candidate. Datafolha found that 46 percent of voters wouldn't cast a ballot at all if voting were optional, and that around 55 percent oppose mandatory voting.