Poll Update: Costa Rica's Presidential Race Narrows
Front-runner and ruling party candidate Johnny Araya faces stronger competition with José María Villalta, who is gaining steam ahead of the February 2 vote.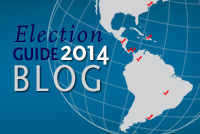 In less than two months, Costa Ricans will cast their ballots for the next president. Though nearly half the electorate is undecided about which candidate to vote for, 71 percent plan to head to the polls, shows a December 10 survey by the Center for Research and Policy Studies at the University of Costa Rica. The poll found that longtime front-runner Johnny Araya of the ruling National Liberation Party is losing ground, with around 17.4 percent. Araya—who served as mayor of San José from 1998 to 2001 and from 2003 to 2013—is neck-and-neck with Congressman José María Villalta of the left-leaning Broad Front, who comes in at 15.7 percent. Another legislator, Congressman Otto Guevara of the Libertarian Movement, is in third place with 10.4 percent. Citizen Action Party candidate Luis Guillermo Solís has 5.1 percent of voter support, followed by the Social Christian Unity Party's Rodolfo Piza with 3.1 percent. The election takes place on February 2, 2014.
According to a Unimer poll released earlier this month, voter support for Araya—who is backed by President Laura Chinchilla—fell from 38 percent to 19 percent between September and November, while support for Villalta and Guevara rose during the same period. Chinchilla has low approval ratings, which affected Araya's campaign support, notes La Nación.
Meanwhile, Villalta now leads the pack in the Unimer survey, with voter support ranging between 17 and 22 percent. Another factor helped him in recent months: Social Christian Unity Party candidate Rodolfo Hernández abruptly withdrew from the race in October, claiming corruption among party leaders. In September, Unimer showed Hernández polling second. Two months later, both Araya and Guevara were tied in second with between 14 and 19 percent of the vote.
Other important factors to consider are abstention rates and undecided voters. Dissatisfaction with Chinchilla's performance is contributing to voters' decision not to go to the polls: those critical of the president are more unlikely to vote than those with a favorable view of her administration, shows Unimer. The poll also demonstrated an increase in undecided voters: between 19 and 24 percent do not know which candidate to pick. If no candidate garners more than 40 percent of votes during the first round of votes in February, a runoff will be held in April.