Poll Update: Brazil's Rousseff Could Face a Close Runoff
A July 17 Datafolha survey found that the president maintains her lead, but could see a statistical tie in a second-round vote.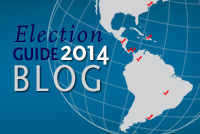 A July 17 Datafolha poll shows that while Brazilian President Dilma Rousseff maintains her lead ahead of the October 5 vote, a runoff would end in a statistical tie. Rousseff has 36 percent of the vote, while contender Senator Aécio Neves stands in second with 20 percent. Former Pernambuco Governor Eduardo Campos remains in third with 8 percent. The president dropped two points from a survey released earlier this month; Neves remained with the same percentage, while Campos lost one point. With these numbers, Rousseff could secure a victory in the first round,  as electoral rules require a candidate to secure more votes than all other opponents to win.
However, with a two-percent margin of error, the survey puts Rousseff only two points ahead of the combined votes for all other candidates, making it a second round possible. The poll found that Rousseff would see a statistical tie in a second-round vote, receiving 44 percent of the vote compared to 40 percent for Neves. If no candidate reaches the required number of votes in the first round, a runoff will be held on October 26.
Still, a portion of voters have yet to make up their minds. Datafolha found that 14 percent remain undecided—a three-point increase from earlier in the month. Plus, 13 percent plan to cast a blank vote.