Poll Update: Brazilian Presidential Race Shaken up by Candidate's Death
Though President Dilma Rousseff remains ahead, a Datafolha survey shows Marina Silva tied in second place with Aécio Neves.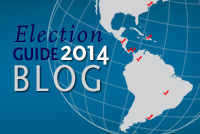 Updated August 20—After presidential contender Eduardo Campos died in a plane crash on August 13, Brazil's presidential race could experience a sea change. Now, President Dilma Rousseff faces a closer race ahead of the October 5 vote, a new Datafolha poll shows.
Previously, the Brazilian Socialist Party (PSB)'s Campos stood at third place in the polls. For example, an August 7 Ibope survey found the PSB candidate had 9 percent of the intended vote, behind the Working Party's Rousseff at 38 percent and Brazilian Social Democracy Party's Aécio Neves at 23 percent. After Campos' death, PSB representatives told the media that vice presidential pick Marina Silva would take over as the presidential candidate. An official announcement about Silva's candidacy took place on August 20. Silva, who served as environmental minister under former President Luiz Inácio Lula da Silva, ran for president in 2010, coming in third with nearly 20 percent.
With a new candidate in the running, an August 18 Datafolha poll shows a surge of support for the PSB. The survey puts Rousseff in first, with 36 percent, and Silva in second with 21 percent. Previously in second place, Neves now has a statistical tie with Silva, at 20 percent. (The margin of error is 2 percentage points.) In this scenario, the election would go to a second round, as the first-place contender needs a larger percentage of votes than the combined percentage of votes for all other candidates. Explore the numbers in an infographic below.
In addition, the survey showed that more voters have chosen a candidate. The number of people who plan to cast blank or null votes fell from 13 percent in July to 8 percent in August. Also, the number of undecided voters declined from 14 percent to 9 percent.
The poll found that Silva would statistically tie in a runoff against Rousseff with 47 percent of the vote, compared to 43 percent for the president. In a second round against Neves, Rousseff would win with 47 percent to his 39 percent.