2014 Election Blog: Winner Declared in El Salvador's Presidential Runoff
The ruling party candidate won by less than 6,400 votes, the country's electoral authorities confirmed on March 16.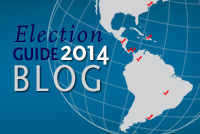 After a runoff vote that separated both candidates by less than 6,400 votes, El Salvador's electoral authorities declared a winner a week after the election. On March 16, the Supreme Electoral Tribunal (TSE) said that after a recount, the governing Farabundo Marti National Liberation Front (FMLN)'s Salvador Sánchez Cerén defeated Norman Quijano of the Nationalist Republican Alliance (ARENA). 
Declárese electo como Presidente de la República al señor Salvador Sánchez Cerén

— TSE El Salvador (@tse_elsalvador) March 17, 2014
The TSE also denied a petition by ARENA to annul the election results, after the party alleged voter fraud during the March 9 runoff. ARENA also appealed to the country's constitutional court, which has yet to release a decision.
The recount results, which concluded on March 13, showed the same divide between the two candidates as the initial results: 50.11 percent for Sánchez Cerén and 49.89 percent for Quijano. This TSE chart shows the final vote breakdown.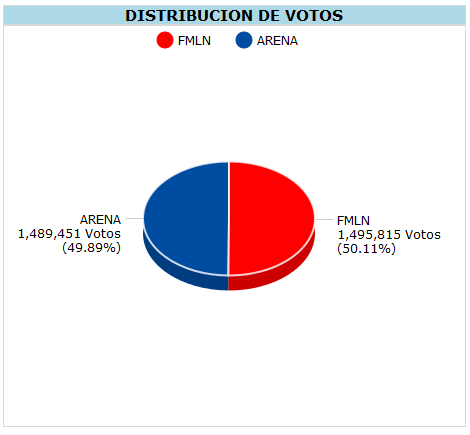 The FMLN celebrated the recount results on March 15, and Sánchez Cerén thanked his supporters on Twitter after the TSE announcement on March 16.
¡Gracias pueblo salvadoreño! La victoria es nuestra #5Más #Adelante pic.twitter.com/uXOdeDNqIC

— Salvador Sánchez C. (@sanchezceren) March 17, 2014
Yesterday, Quijano maintained allegations of fraud, sharing a video on Twitter alleging manipulation during the final vote count.
En el escrutinio final, hemos visto como se han manipulado documentos de manera ilegal. Contemos voto por voto. http://t.co/bIUec64kZA

— Norman Quijano (@norman_quijano) March 16, 2014
Sánchez Cerén takes office on June 1 to serve a five-year term.