2014 Election Blog: Voter Turnout in Latin America's Presidential Votes
Among seven countries with presidential elections this year, Bolivia had the highest turnout and Colombia had the lowest.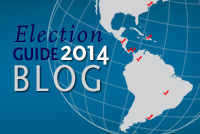 This year, seven Latin American countries held presidential elections and, in all but two cases, turnout exceeded that of the 2012 U.S. presidential elections. In every country except Colombia, over half of eligible voters cast their ballots, and in three countries, turnout exceeded 80 percent. For first-round votes, Bolivia's turnout came in highest. During both first rounds and runoffs, Colombia had the lowest turnout. And among the five countries that held second rounds, Uruguay topped the list.
All of these countries have some form of mandatory voting, with the exception of Colombia. In Costa Rica, El Salvador, and Panama, voting is compulsory but there are no sanctions for those who abstain. Bolivia, Brazil, and Uruguay impose sanctions on those who fail to show up at the polls. (These countries have low numbers of blank votes—less than 4 percent). In Brazil, voters must pay a small fine, but if they fail to pay it, they can be barred from certain government services, like getting a passport or taking a civil service exam. In Bolivia, the fine is more substantial, and those who fail to pay can even get banned from making bank transactions as well as government services. In Uruguay, non-voters must pay a fine and if they don't, they risk getting shut out of services like taking public university entrance exams.
Out of the seven countries, Bolivia had the highest turnout: over 90 percent. Former Guatemalan President Álvaro Colom, who served as head of the Organization of American States' electoral observer mission in Bolivia, lauded the Andean country's voter turnout as "an example for Latin America."
Meanwhile, Colombia—where voting is optional—saw the lowest turnout among all seven countries. In fact, it experienced the lowest turnout rate in two decades during the first round of voting in May. Some analysts say voters grew weary of mudslinging on the campaign trail. Political scientist Marcela Prieto told El Tiempo that "people are tired of the bickering and it's evident that a connection was lacking between the candidates and the topics Colombians want to hear about: education, jobs, health." 
During Brazil's first-round vote in October, the combined number of abstentions, blank, and null votes amounted to the highest level since 1998. However, abstention overall remained stable at around 19 percent; it tends to fluctuate at around 20 percent for presidential elections. Plus, Estado de São Paulo pointed out that abstention partially stems from a lack of updates to voter lists, which sometimes include people who have passed away.
The elections ended in some form of continuity in most countries. Voters in Bolivia, Brazil, and Colombia reelected their presidents; in El Salvador and Panama, the sitting vice president won the vote for the country's highest office. In Uruguay, meanwhile, voters chose a former president. Costa Rica was the outlier, given that an opposition candidate who polled fourth came out the victor.