2014 Election Blog: Uruguay's Education Woes Take Center Stage in Presidential Race
Education reform is a top campaign issue due to poor performance and grade repetition among Uruguay's high school students.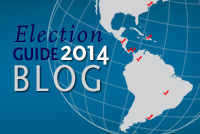 The latest polls in Uruguay's presidential race forecast a close runoff between former President and Broad Front party candidate Tabaré Vázquez and the National Party's Luis Lacalle Pou, a young federal deputy who won his party's candidacy in a surprising primary vote. A scheduled referendum to lower the age of criminal responsibility has focused politicians' attention on insecurity as an issue of increasing concern to Uruguayans. But the presidential race is spotlighting another issue of central importance: education.
Uruguay is considered a regional leader in education. According to the 2012 PISA test, taken by 15-year-olds in 65 countries, Uruguay ranked third in Latin America in math and science, and fourth in reading. But PISA scores have steadily fallen, and an analysis by Infobae showed that the performance gap between the highest and lowest scores grew in each category from 2009 to 2012. In February 2014, a CIFRA survey found that 57 percent of Uruguayans thought their country's education system needed major changes, up from 48 percent in March 2013. Leading opposition candidate Lacalle Pou said Uruguay's education system faces an "emergency," and named it as one of his top three concerns as president, along with security and infrastructure. All this presents a challenge to Vázquez, whose party has been in power for a decade and must defend its policies amidst what some describe as an "education crisis"—a claim Vázquez called "extremist."   
During the campaign, Vázquez has reminded voters of several significant changes made for students during his presidency from 2005 to 2010. For instance, he tripled funding for public schools and launched the Ceibal Plan, an initiative to provide every public primary student and teacher with free access to their own laptop computer. By the end of his administration, the government had distributed 380,000 laptops and trained 18,000 teachers to use computers. The ambitious plan drew international praise for its modern approach in addressing socioeconomic inequities among Uruguayan families, but its impact on the country's education system may be moot. A 2013 report from Uruguay's Institute of Economy found that access to the computers had no effect on students' reading and math levels over time. 
Furthermore, the opposition says high rates of secondary grade repetition during the Mujica administration are a reason to question the ruling party's record on education. In 2013, 30.9 percent of students in the first three years of secondary school had to repeat a grade. The rate was worse in the capital of Montevideo: four out of every ten secondary students were held back.  
In a televised debate between the candidates' proposed education ministers, the National Party's Pablo da Silveira said the Uruguayan education system was in "crisis," citing the high repetition rates and Uruguay's declining PISA scores. In response, the Broad Front's Ricardo Vilaró argued that repetition rates similar to Uruguay's exist in countries throughout the region and should be addressed with greater investment in education than that of previous administrations. His party promises to increase public education funding to 6 percent of GDP. Another key element of Vázquez' platform includes lowering the age for universal preschool from four to three years old.
On the other hand, Lacalle Pou's proposed education plan involves decentralizing the education system, hiking teachers' salaries, changing school evaluation and inspection systems, and expanding the number of full-time schools. He and Da Silveira have also expressed their support for charter schools, which are run privately but use state funds.