2014 Election Blog: Social Media's Growing Role in Brazil's Electoral Campaigns
Presidential candidates are competing for followers on networks like Facebook and Twitter ahead of the October 5 vote.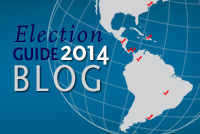 On October 5, Brazilians head to the polls to elect their next president, as well as legislators and governors. As campaigns enter the final weeks, candidates are going beyond the airwaves and harnessing the power of social media.
There's a reason political hopefuls are turning to these networks: more and more Brazilians are getting online, and many Brazilian web users frequent social media. In 2013, more than 105 million Brazilians—about 52 percent of the country's population—accessed the internet, according to Ibope. A Social @ Ogilvy survey of 16 countries, including the United States and Brazil, showed that Brazilians spend an average of 13.8 hours a month on social networks—more than any other country. Another reason social media proves useful is that electoral law limits candidates to specific amounts of daily airtime on TV and radio, but social media provides an unlimited platform.
So as presidential candidates battle it out in the polls, they're also after social media followers. President Dilma Rousseff leads in number of Twitter followers, but challenger Marina Silva has the most Facebook fans. Rousseff used Twitter during her 2010 campaign, but stopped using the network after her election. Her team reactivated her account and started a Facebook page in September 2013, shortly after the country's social media-fueled protests. Polling third, Senator Aécio Neves leads in number of Instagram followers.
Electoral Monitor, a website that tracks presidential candidates' social media mentions, shows Silva as the frontrunner this month, with over 335,000 mentions compared to around 296,000 for Rousseff and 207,000 for Neves. The site also looks at candidates' "social health" by dividing the number of positive mentions by the number of overall mentions. Using this measure, Neves leads with 82 percent, compared to 46 percent for Rousseff and 44 percent for Silva. Plus, this month, popular ex-President Luiz Inácio Lula da Silva joined Twitter, largely focusing on campaigning for Rousseff. 
Raquel Recuero, a social media researcher at Brazil's University of Pelotas, told BBC Brasil that discussions about the elections on social media can carry over into the real world to influence those who may not have access to the internet, as last year's protests did. Indeed, Facebook and Twitter serve as a forum for voters, who share everything from their preference for candidates to campaign videos.
Facebook is the country's most popular social network, with roughly 89 million users. Along with a space for voters to share thoughts on the candidates, the website will even become a new space for candidates to debate. On September 16, Facebook Brasil challenged presidential candidates to participate in a livestreamed "Face-to-Face" event allowing users to ask questions in real time. Silva was interviewed on September 17, and Neves will participate on September 23.
Twitter, too, has become a hotspot for discussing the candidates, the presidential debates, and election issues. It's also being used to hold "tuitaços," organized mass tweeting events related to political issues. As a result, the network has become a source of controversy. Last week, Silva and Marina exchanged barbs via tweet; earlier this month, Neves took legal action against Twitter, demanding the company provide user information about 66 Twitter accounts allegedly slandering the candidate.