2014 Election Blog: Presidential Hopefuls Battle It out in Panama's Official Debate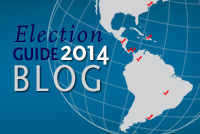 Panamanians tuned in April 7 to watch five presidential hopefuls going tit-for-tat in their country's official debate before voters cast their ballots on May 4. The three top contenders participated: José Domingo Arias of the ruling party Democratic Change, former Panama City Mayor Juan Carlos Navarro of the Democratic Revolutionary Party, and Vice President Juan Carlos Varela of the Panameñista Party. Left-leaning candidate for the Broad Front for Democracy Genaro López and independent Juan Jované also joined (although there are other independent candidates, the debate organizers select the independent candidate who ranked highest in polls). Some might make the case that the debate had a sixth participant; President Ricardo Martinelli commented on the event via Twitter.
Held by the Electoral Tribune and the Chamber of Commerce, the 150-minute debate was made up of five sections, covering social development, food security and cost of staple items, governance, an open section on varying issues, and closing statements. Participants came together on the need for improvement in the first two areas, but the third section on governance saw sparks fly, with candidates raising concerns about corruption. Navarro told Arias he was not Ricardo Martinelli and did not have "the capacity to lead the country." The ruling-party candidate argued the current government made advances "that no other government had made in so little time." Panamanian daily La Prensa reported on the debate's tone and topics, such as Arias dodging uncomfortable questions, Navarro's mano dura security proposal, Varela's plan to drop the price on 22 staple items, López's defense of unions, and Jované's questioning of the millions spent on campaign advertising.
Some observers credited López and Jované for their participation in the debate, but both poll well behind the other three candidates. If social media determined the event's winner, Varela took it; he earned 51 percent of positive mentions (#VarelaSi) compared to 42.6 percent for Navarro and just 6 percent for Arias, reported Telemetro. But Navarro received the most mentions and interactions of the three, perhaps due to the fact that he outnumbers his rivals in terms of followers on Facebook, Twitter, and Instagram.
Still, it's Panama's 2.4 million voters, not internet users, who will determine the victor in May. Polls differ on the standing of the three candidates, and the race's outcome remains uncertain. A March 31 Ipsos/Telemetro poll puts Arias and Navarro neck and neck at 35 percent, with Varela at 28 percent. The same poll finds that between 10 and 12 percent of any of the candidates' supporters say they could still change their minds. A Dichter & Neira survey from earlier this month places Arias as the frontrunner with 38 percent against Navarro with 30 percent and Varela at 29 percent.