2014 Election Blog: Polls Show Governing-Party Candidate Leads El Salvador Runoff Race
The last round of polls gave the FMLN's Salvador Sánchez Cerén an advantage ahead of the March 9 presidential vote.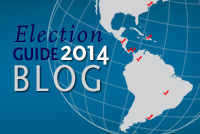 El Salvador's presidential runoff vote takes place March 9, and polls give the governing-party candidate a comfortable lead. February 21 marked the last day to release poll findings, and several surveys published ahead of that date show Salvador Sánchez Cerén of the Farabundo Martí National Liberation Front (FMLN) with a lead in the realm of 10 points or more above Norman Quijano of the Nationalist Republican Alliance (ARENA). On February 2, Sánchez Cerén garnered 48.92 percent of the vote to narrowly miss getting the absolute majority needed to avoid a second round. Quijano, the former mayor of San Salvador, took in 38.95 percent of ballots.
One major question after the first round was which candidate would snatch up the votes of third-place candidate, former President Tony Saca. A February 18 University of Technology survey found a split down the middle, with half of Saca's votes going to the FMLN and half to ARENA. The same poll gives the governing party 54.9 percent of votes compared to 45.1 percent for ARENA. A CID-Gallup poll showed Sánchez Cerén with an even larger advantage, with 58 percent against 42 percent for his rival. A survey from the University of Francisco Gavidia published February 21 puts the leading candidate at an even greater advantage, with 53.9 percent for the FMLN and 35.5 percent for ARENA.
An EDH/Newlink poll, which also gave a 10-point poll lead to the first-round winner, found that 12.9 percent of voters remain undecided and 8.8 percent of voters say they don't intend to participate.