2014 Election Blog: Key Dates in Brazil's Big Year
This year means more than the World Cup in Brazil. Find out the important election-related events taking place in 2014.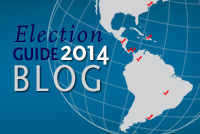 A calendar circulating on Brazilian social media jokes that Brazilians will only work three months this year, thanks to the upcoming World Cup, elections, and Carnival. While this is an exaggeration, a number of important dates related to the October elections will mark 2014 in Brazil. Brazilians will elect the next president for a four-year term, as well as members of Congress, governors, and state legislators. In this country, voting is mandatory.
AS/COA Online looks at the schedule of events coming up in Brazil this year.
Schedule of Events
Carnival: March 3 and 4
World Cup: June 12 to July 13
Party conventions to choose candidates: June 10 to 30
Each political party holds conventions to pick who will run for all open seats. These conventions are held on the municipal, state, and federal levels with party members, depending on the positions up for a vote. This year, parties will select candidates for president and vice president, governors, federal deputies and senators, and state legislators.  
Cut-off date for candidates to register: July 5
After a party has picked its candidates for open seats, candidates must register with the country's Superior Electoral Court.
Campaigns allowed to begin: July 6
Candidates are legally allowed to begin campaigning, such as public appearances and launching campaign websites.
Free campaign advertising begins: August 19
The government begins providing free air time on TV and radio to political candidates. There are 130 minutes of free political ads each day, split up into two 50-minute blocks and short ads of 1 minute or less distributed throughout the day. Airtime is given based on party representation in Congress, so candidates from large parties and coalitions get more time than those from smaller parties. Paid ads are prohibited on TV and radio, with strict restrictions for paid print and internet ads.
Electoral courts release decisions on candidate registrations: August 21
Courts can bar candidates from running if they do not have the proper paperwork or if they have been convicted of crimes or corruption, making them in violation of the Clean Record Law.
Televised presidential debates: August to October
While dates have not been set yet, televised debates between presidential candidates are typically held in August, September, and October.
Candidates must end campaigns: October 2
Free TV and radio campaign advertising ends. Candidates can no longer campaign through public appearances and meetings.
Last day for print advertising: October 3
Candidates must stop running ads in the print media and online versions of print media.
First round election: October 5, 2014
Brazilians will pick candidates for president and vice president, as well as governors, federal deputies and senators, and state deputies and senators. Runoffs are allowed for presidents, governors, and mayors. A second round takes place if a candidate fails to receive more than 50 percent of the vote.
Runoff campaigns begin: October 6  
At 5pm local time, runoff candidates are legally allowed to launch ads and campaigns.
Runoff campaigns end: October 23
Candidates participating in the runoff must cease campaigning through public appearances.
Runoff campaign advertising ends: October 24
Runoff candidates are no longer allowed to run ads.
Runoff election: October 26, 2014
To win the second round, a candidate must achieve an absolute majority.
Presidential inauguration: January 1, 2015
The new president will be sworn into office.
Congressional swearing-in: February 1, 2015
Members of Congress will be sworn into office.