2014 Election Blog: Juan Carlos Varela Declared Next President of Panama
The Panamanian vice president defied poll numbers to come out as a decisive victor in the country's May 4 presidential election.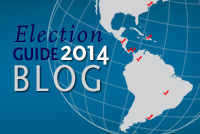 Although he was one of the three main contenders during Panama's presidential race, late polls didn't place Juan Carlos Varela in the top spot. But on May 4, with 60 percent of ballots counted, the electoral tribunal gave the win to the current vice president and Panameñista Party (PP) candidate. Voter turnout exceeded 75 percent and, with over 77 percent of votes counted, the future president led governing-party candidate José Domingo Arias by seven points, earning 39.02 percent against Arias' 32 percent and 27.65 percent for ex-Mayor of Panama City Juan Carlos Navarro. 
Varela may be Martinelli's vice president, but the two had a falling out in 2011 in a dispute over electoral reform. His victory ends what was widely seen as a polarizing electoral campaign; he takes office July 1 for a five-year term.
Check out quotes, videos, and more about Varela's presidential win.