2014 Election Blog: Immigration Emerges as Key U.S. Voter Issue 
Friday, September 5, 2014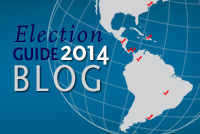 Ahead of the United States' legislative elections on November 4, immigration stands as one of the top issues of concern among Americans, according to Gallup. In a July survey on the United States' most important problem, immigration ranked first at 17 percent—its highest level since 2006, when it peaked at 19 percent. Although immigration fell to the second position in the same Gallup poll in August, the survey's 4 percentage-point margin of error means immigration holds a statistical tie with government dissatisfaction. The August survey found that Republicans were twice as likely as Democrats to view immigration as the most important problem for the country. Americans over 50 are also more likely to name immigration as the top issue. Regionally, concern about immigration is highest in the West.
This summer, the surge in unaccompanied child migrants at the U.S.-Mexico border reignited discussion on immigration policy and border security. With the migrant crisis in the spotlight during this period, the July Gallup poll showed a 12 percentage-point hike from June, when 5 percent of respondents said immigration was their top concern. In January, immigration was the top concern for just 3 percent of those surveyed. A July Associated Press/GFK poll found similar results: 62 percent of Americans considered immigration a "very" or "extremely important" issue, up from 52 percent in March.
Despite more attention on the issue, the approaching midterms may delay legislative action on immigration. In June, President Barack Obama said he would be willing to take executive action to institute immigration reform before the end of the summer, claiming he would do "what Congress refuses to do." However, the president is now weighing postponing executive action until after the midterms, reports The New York Times. An August Fox News survey found that 65 percent of those polled prefer Congress pass a law to create a pathway to citizenship for undocumented immigrants this year, compared to 20 percent who prefer legislators do nothing.