2014 Election Blog: El Salvador's Runoff Too Close to Call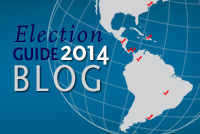 On March 9, Salvadorans headed to the polls for the country's second-round presidential election, but because the results were so close, the country's electoral authorities said they could not call a winner. The Supreme Electoral Tribunal (TSE) said it would complete a recount by March 12 or 13.
According to the preliminary count on March 9, the governing Farabundo Marti National Liberation Front (FMLN)'s Salvador Sánchez Cerén won 50.11 percent, while Norman Quijano of the Nationalist Republican Alliance (ARENA) won 49.89 percent. During the second round, initial numbers indicated that voter turnout—at around 60 percent— was higher than during the first round.
As this TSE graphic shows, the two candidates were separated by less than 7,000 votes.
Each candidate won exactly half of the country's 14 departments, as this map from La Prensa Gráfica depicts.
Both candidates claimed victory. Sánchez Céren vowed to continue the work of the ruling FMLN and to abide by the Constitution.
Vamos a continuar la obra que iniciamos en el 2009. Seremos fieles a La Constitución, todas las libertades están garantizadas. #Adelante

— Salvador Sánchez C. (@sanchezceren) March 10, 2014
He also promised unity. "We are going to govern for everyone, for those who voted for us, and those who did not," he said.
Meanwhile, Quijano also said he had won and claimed there was foul play at work.  "We are not going to allow fraud...We are 100 percent convinced that we have won," he said.
Given the close margin, one factor that could impact the final count is votes from overseas. This year marked the first time that expats could vote abroad. But on Sunday, only about 2,700 expatriate votes had been counted, with more ballots expected to arrive later by mail.