2014 Election Blog: Costa Rica's Presidential Race
Find out the candidates, polls, and the main voter issues ahead of this Central American country's February 2 election.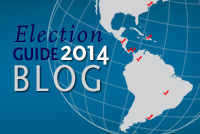 Costa Ricans head to the polls on February 2 to elect the next president and members of Congress. While 13 candidates are in the running for the country's highest office, three remain at the top of the polls. If no candidate receives more than 40 percent of the votes, a runoff will be held on April 6. In Costa Rica, voting is mandatory.
AS/COA Online gives an overview of the candidates, polls, and the main election issues.
The Candidates
Johnny Araya is from the National Liberation Party (PLN). This center-left party is the current ruling party, that of President Laura Chinchilla. Araya served as mayor of the country's capital, San José, from 1998 to 2001 and from 2003 to 2013. He previously served on San José's City Council and worked as an agronomic engineer.
This candidate lists eight areas of focus on his campaign site: jobs, health, infrastructure, education, energy, taxes, transparency, and security. He seeks to build technology parks, decentralize health services, and expand road projects. On security, Araya proposes establishing a border police force and to increase aerial and marine surveillance. The candidate's plan includes introducing natural gas and biofuels to the country's energy matrix, and increasing the use of renewable energy production. Araya's platform also states that as president, he'd ensure that each student gets a computer with internet access in school, and that he would change the country's sales tax to a value-added tax. He also intends to facilitate citizen access to government spending.
Otto Guevara hails from the Libertarian Movement Party (PML). In 1994, Guevara founded this party, which seeks to limit the power of the government and expand freedoms of the individual. The party has nine of 57 seats in Congress, but has never won a presidential election. Guevara served as a congressman from 1998 to 2002. He ran for president three times, in 2002, 2006, and 2010. He has also worked in the private sector and academia.
On his website, this candidate lists job creation, reducing the cost of living, and fighting corruption as his top concerns. He also proposes political reforms, such as changing the system in which legislators are elected and reducing the number of government ministries. On security, Guevara supports gun ownership and making it easier to register legal weapons. He pledges to lower electricity costs and taxes, and create 500,000 jobs.
José María Villalta represents the Broad Front (FA), which promotes progressive and environmentalist policies, and has never won the presidency. Villalta is the only member of the FA in the country's legislature for the 2010-2014 term. A lawyer and environmentalist, he also spent a decade working as a congressional advisor. This candidate says his focus is on reducing inequality and poverty.
As such, Villalta proposes greater protection of workers' rights, promoting job creation, lowering the cost of living, raising taxes on the wealthy, and expanding social programs. Similarly, he seeks to improve the public health and education systems and to grow citizen participation in government. He has an expansive environmental plan, which includes making potable water access a constitutional right and cracking down on illegal loggers.
Polls
Until December, Araya was the definitive frontrunner. But polls saw a shift, with a greater number of undecided voters and more support for Guevara and Villalta. A January 16 Unimer poll put Villalta in first place with 22.2 percent of the vote, giving Araya and Guevara a virtual tie just two points behind. Later, a January 21 survey by the Center for Research and Policy Studies (CIEP) at the University of Costa Rica identified Araya in first place with 20.4 percent, Villalta with 15.3 percent, and Guevara with 11.2 percent. Araya draws more support from rural areas, while Villalta's potential voters hail from cities and higher socioeconomic levels. In contrast, Guevara's supporters tend to be less affluent.
The latest CIEP poll published January 28 showed Araya in first place with 17.4 percent, and Villalta with 14.4 percent. This survey put Guevara in fourth place with 7.3 percent, and had Luis Guillermo Solís of the Citizens' Action Party in third place with 11.6 percent. Both Araya and Guevara disavowed the survey.
Costa Rica's La Nación was due to publish its last Unimer poll on January 29, but announced it would not, saying it was too close to the election and that undecided voters tend to make their decisions in this period of time. Given that the daily has published other polls just days before previous presidential elections, some speculate that the survey may have put the three frontrunners in a virtual tie.
Election Issues:
Undecided voters: This year's presidential race has a large number of voters who have not decided which candidate to pick. According to the January 28 CIEP poll, over 33 percent of voters are undecided; other polls put the number as high as 40 percent.
Fracturing of party lines: Given the current president's low approval rating, voters have been moving away from the governing party. Around 22 percent of Villalta's supporters and 21 percent of Guevara's supporters voted for the PLN during the 2010 elections. Plus, over half of those who support Villalta—the most left-leaning candidate—consider themselves moderates. Around 28 percent of voters point to the candidate's ideology as the most important factor in deciding for whom to vote, compared to 13 percent who say the party is the most important factor.
Voter concerns: The January 21 CIEP survey found that voters count consider cost of living and inequality, unemployment, and crime as their top three concerns. When asked about the country's main problems, the most-cited answers were corruption and unemployment.