2014 Election Blog: Costa Rican Poll Numbers and a Presidential Debate
With just over a week before voters cast their ballots, poll numbers indicate the presidential race could well head for a runoff.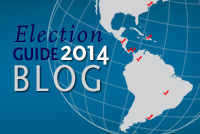 As Costa Rican voters prepare to cast their ballots on February 2, conflicting poll numbers make it hard to predict the outcome. A January 14 CID-Gallup survey reported that the frontrunner Johnny Araya, of the governing National Liberation Party (PNL), had 39 percent of voter support and was pulling ahead of his top contenders. But, two days later, a Unimer poll showed the former mayor of San Jose at only 20.3 percent. The same data puts the Broad Front's Congressman José María Villalta ahead of the pack with 22.2 percent and Congressman Otto Guevara of the Libertarian Movement neck and neck with Araya at 20.2 percent. Meanwhile, a January 22 poll to come out of the University of Costa Rica asked respondents who they would choose were the elections that day. Roughly 20.5 percent would elect Araya and 15.3 percent would choose Villalta. The frontrunner addressed the polling discrepancies and said he did "not really believe" the hefty lead that CID-Gallup numbers gave him. With such differences, it's unclear if any of the candidates will garner the 40 percent of votes needed to avoid an April runoff election.
One aspect of the race shows how "atypical" it has been, says political analyst Victor Ramírez. The number of undecided voters has climbed to 40 percent from 29 percent in November, and party lines appear to be shifting as the governing party loses support. Villalta, an environmentalist lawyer and the race's youngest candidate, counts younger voters in his support base, as well as those living in cities and from higher socioeconomic levels. Surveys show that 22 percent of his supporters voted for the PNL in 2010. Likewise, 21 percent of Guevara's supporters, mostly of lower socioeconomic standing, are former PNL  voters.
A January 20 televised debate focused on the economy, social security, and education and gave candidates a chance to trade barbs and sway undecided voters while solidifying their bases. For Costa Ricans, poverty and unemployment remain the two most important issues, according to a University of Costa Rica survey. During the debate, Araya discussed his social assistance plan, while Guevara reiterated his promise to create 500,000 new jobs, and Villalta defended himself against claims that his agenda resembled "Venezuelan communism." A series of debates that began in October will come to a close on January 27, when candidates will square off for the final time.