2014 Election Blog: Breaking Down El Salvador's First Presidential Debate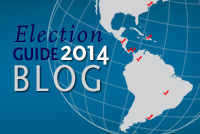 Candidates focused on security and the economy in El Salvador's first ever televised presidential debate, held January 12—just three weeks ahead of the February 2 election. Broadcast on television, radio, and online, the event featured the three main candidates: Salvador Sánchez Cerén of the governing Farabundo Martí National Liberation Front (FMLN), Norman Quijano of the Nationalist Republican Alliance (ARENA), and Antonio Saca of the Unity (UNIDAD) coalition. Moderated by Mexican journalist Armando Guzmán of Univision, the debate also included two minor candidates—Óscar Lemus of the Salvadoran Patriot Fraternity and René Rodriguez Hurtado of the Salvadoran Progressive Party.
A two-year-old gang truce has led to periods of decreased homicides in El Salvador, but, given the deal's tenuous nature and ongoing concerns about public safety, candidates shared their anti-crime proposals. Sánchez Cerén, current vice president and a former FMLN guerilla commander, promised to strengthen police forces with training and better equipment. Quijano, San Salvador's mayor, pledged to militarize public security policies and agencies, as well as to try gang members in military rather than civilian courts. He also accused the government of negotiating with gangs, which Sánchez Cerén denied. Saca, an ex-president and formerly of the ARENA party, offered to augment police forces and increase preventative measures, such as increased opportunities for youth. But he also said he would avoid conflict with gangs—or a "blood bath."
On the question of improving the economy, Quijano described himself as the only candidate who could generate investor confidence, whether domestic or international, while Saca reminded the audience that job creation is a central pledge of his campaign. Both Quijano and Saca promised to decrease government costs by trimming away at bureaucracy. Sánchez Cerén said he would negotiate with business leaders to boost the minimum wage, as well as promote increases in investment from the private sector.
Whether the debate will move the needle on the outcome of the February 2 election remains to be seen. Several observers criticized the event and the nature of candidates' participation. "It wasn't really a debate," Roberto Rubio of El Salvador's National Foundation for Development told the Associated Press. "In a debate, there's confrontation between ideas, and argument against argument." Columnists for Salvadoran news outlet La Prensa Grafica gave the night's win to Quijano, but also lamented the lack of true debate, with Juan Héctor Vidal saying the candidates failed to respond to the moderator's repeated question of how they planned to fund their proposals. El Diario de Hoy columnist Salvador Samayoa said the lack of argument could be attributed to the fact that the FMLN and ARENA previously negotiated a format to keep their candidates in a safe space, "assuring that no candidate would be able to criticize another." Even current President Mauricio Funes complained about the event, calling it "more of the same."
Polls show it's unlikely that any candidate will get the necessary majority vote in the first round to avoid a March 9 runoff. Last week's Data Research poll put the FMLN ahead with 30.4 percent, UNIDAD at 26.7 percent, and ARENA at 25.3 percent. A December poll by the University of Central America gave Sánchez Cerén the lead at 39.2 percent, Quijano 34.2 percent, and Saca 15.8 percent.