Americas Society
Council of the Americas
Uniting opinion leaders to exchange ideas and create solutions to the challenges of the Americas today
2014 Election Blog: Brazil's October 5 Presidential Vote
Tuesday, September 30, 2014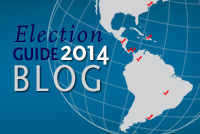 Get updates on Brazil's presidential vote, which takes place October 5. Also, explore our recent coverage to get an overview of the election, candidates, polls, and more:
Learn more about what's been happening on the campaign trail in our election blog.
Check out our election guide, which includes important dates and facts about the vote.
View our infographic with a rundown of numbers about the election.