2014 Election Blog: Bolivia's Morales Seeks Third Term as Opposition Attempts to Unify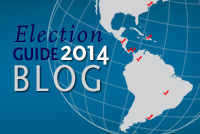 Bolivian President Evo Morales is eyeing a third term in office as election season gets underway in the Andean nation. With polls giving him the lead ahead of the October 12 vote, Morales will challenge a splintered opposition that has had trouble forming alliances and launching a sole candidate.
While Bolivia's constitution limits the number of terms a president can serve to two, the Supreme Court ruled in April 2013 that because the constitution was amended during his first term, Morales would be entitled to run again. The following month, the Bolivian legislature passed a law allowing Morales, first elected in 2005, to seek reelection in 2014. 
The controversial law gives Morales' Movement Toward Socialism (MAS) party the opportunity to draw on widespread support it has enjoyed for nearly a decade. A June 24 Ipsos poll puts Morales' approval rating at 73 percent—up from 60 percent in May—and an April Tal Cual survey showed the president has 38.3 percent of voter intention, more than any other candidate. An April Captura Consulting poll put him further ahead, with 43.2 percent.
Nevertheless, the opposition has made attempts at joining forces. On June 17, Bolivia's two largest opposition parties—the National Unity (UN) and the Democratic Social Movement (MDS) —formed the Democratic Unity Coalition, which picked the UN's Samuel Doria Medina as its presidential candidate. As part of the arrangement, MDS candidate Rubén Costas, the governor of the eastern Santa Cruz department where much of the opposition is concentrated, withdrew his candidacy and agreed to head up the new coalition.  
Doria Medina is no stranger to the campaign trail, having run against Morales in the two previous elections and finishing in third both times. Marcelo Silva, a political scientist at the Public University of La Paz, told the Associated Press that Doria Medina, a cement tycoon and fast food entrepreneur, "is the only opposition leader that has the capacity to finance an electoral campaign and it is he who has the greatest national projection compared with other regional opposition leaders."
While the Democratic Unity Coalition's backing of a single candidate signifies some unity within the opposition, the center-right coalition only represents one segment of the quarter of Bolivians who do not plan on voting for Morales. On July 1, the Movement Without Fear (MSM) party announced a new center-left ticket, with former Morales ally Juan del Granado officializing his candidacy. However, Doria Medina leads del Granado in the polls; an April Tal Cual survey gave 14 percent to Doria Medina and 5.9 percent to del Granado. Still, del Granado's candidacy could poach votes from Doria Medina, ultimately aiding the president's quest to win in the first round.
In total, there are four opposition candidates. With the inclusion of former President Jorge Quiroga Ramírez and indigenous leader Fernando Vargas on the ballot, the number of presidential hopefuls has led some to voice concern that votes will be spread out. "MAS celebrates whenever the opposition disperses their votes because then there go our chances," said Jamie Navarro, a representative for Doria Medina's UN party. "Those who want to split the vote will be accountable not only to the electorate but to the history of our country because they're facilitating MAS's triumph."
As both the president and opposition hit the campaign trail, candidates will have to work to quell concerns about corrupt leadership. A May Tal Cual poll found that corruption has become the top worry for Bolivians as 30.3 percent mentioned it as a major problem. The second top concern was insecurity, which 29 percent said was an issue.