10 Facts on Bolivia's 2014 Election: Morales Poised to Win Third Term
President Evo Morales commands a strong poll lead and his party could win a two-thirds majority in the legislature on October 12.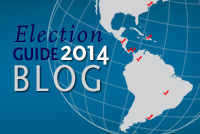 If the polls are correct, Evo Morales could avoid a runoff vote.
The third and final poll by Ipsos gives Morales 59 percent of voter intention for the October 12 election. That puts him a full 46 points ahead of his top rival, Samuel Doria Medina of the Democratic Unity party. Jorge "Tuto" Quiroga of the Christian Democratic Party holds the third spot with 8 percent of voter intention. The most recent survey by polling firm Mori also gives Morales 59 percent, followed by Doria Medina at 18 percent and Quiroga at 9 percent.
In order to avoid a second round of voting, Morales needs 50 percent of the vote plus one, or at least 40 percent of votes and at least 10 percent more than the second-place candidate. A runoff would take place on December 7.
A victory for Morales will result in his third consecutive term.
Should he win, Morales would start his third term in a row, even though Bolivia's Constitution only allows a sitting president to be reelected once, meaning for two consecutive terms. Last year, Bolivia's Supreme Court decided that since the new Constitution took effect while Morales was in office in 2009, his first term fell outside the rule. This allowed Morales to count his second term as his first. He initially became president in January 2006 and an election victory would mean another five-year term, keeping him in office until January 2020.
The president has high approval ratings and faces a fragmented opposition.
The opposition has the challenge of running against a president whose approval rating ran as high as 73 percent in June, according to Ipsos. Even in Santa Cruz, a region considered an opposition stronghold, Morales' support reached 68 percent in the survey.
One reason for Morales' high approval rating is the country's strong economic growth under his charge. Bolivia's GDP growth hit 6.8 percent in 2013 and the IMF forecasts it will have the strongest GDP growth in South America this year, at 5.2 percent. Not only that, but Morales' party, the Movement Toward Socialism (MAS), holds the largest number of seats in the country's legislature. Morales also faces a divided opposition, given that Doria Medina and Quiroga are fighting over the same bloc of opposition voters, says Bolivian daily La Razón. There are two other minor candidates—former Morales ally Juan del Granado and indigenous leader Fernando Vargas—trailing in the polls and further dividing the vote.
Morales' top rival is a business leader, prior candidate, plane crash survivor, and former kidnapping victim.
Since 1987 Doria Medina has led Soboce, a Bolivian cement company, and he won the 2012 Latin American Industrialists Association's award for top industrialist in the region. But he also spent time in public office, serving as the planning minister during the government of President Jaime Paz Zamora (1989-1993). The centrist business leader sought the presidency twice, in 2005 and 2009, placing third both times. In 1995, he was kidnapped for 45 days by the Peruvian guerilla group known as the Túpac Amaru Revolutionary Movement. A decade later he survived a plane crash.
The candidate polling third is a former president.
Quiroga served as president from August 2001 to August 2002.  He ascended to that position after Hugo Banzer, for whom he served as vice president, stepped down due to health problems. This isn't the first time Quiroga has sought to recapture the presidency; he ran and lost against Morales in 2005.
Morales skipped the only presidential debate.
The president opted not to take part in the September 28 debate, nor did Vice President Álvaro García take part in the September 21 debate among vice presidential candidates. A spokesman for the president said Morales did not need to participate because he does so on a daily basis by listening to the Bolivian people, which is the "true debate."
The entirety of the legislative assembly is up for election.
All 130 seats in the Chamber of Deputies and 36 seats in the Senate will be selected on Sunday. In both cases, legislators serve five-year terms. In the lower house, 70 deputies are voted by a plurality vote, 53 by proportional representation, and seven are reserved for indigenous candidates, also elected via a plurality vote. In the Senate, each of Bolivia's nine departments elects four senators through a proportional voting method. Legislators can be reelected once to serve two consecutive terms.
Polls indicate that Morales' party could win a two-thirds majority in the assembly.
MAS could snatch up 28 of the 36 seats in the Senate and 83 of 130 seats in the Chamber, reports Bolivian media outlet Página Siete, based on a late August poll by Tal Cual. That would give the party 111 seats in the legislature, meaning a two-thirds majority. MAS could also capture some portion of the seven seats set aside for indigenous candidates. In the run up to the election, Morales called on his supporters to deliver 80 percent of the vote for MAS.
Almost 900,000 more people are registered to vote compared to the last election.
About 6.25 million people are registered to vote on Sunday, including 272,000 of them from abroad who can cast ballots for presidential and vice-presidential candidates. In Bolivia, 5.97 million people are registered, representing 60 percent of the population and an increase of roughly 885,000 over the 2009 election. The largest numbers of voters are in La Paz, Santa Cruz, and Cochabamba, respectively. It is compulsory for eligible voters to participate and Bolivians are given the right to vote at the age of 18. Turnout was high during 2009 elections, with nearly 95 percent of the electorate participating.
Bolivia implemented a new gender quota for the 2014 vote.
A law passed in 2010 and implemented during this election requires candidate lists for legislative posts to include an equal number of men and women. Women currently hold 25 percent of lower house seats and 47 percent of Senate seats.
On top of that, a social movement has sought to decry candidates who are suspected of violence against women. Using the slogan "Machista, fuera de la lista" ("Misogynist, get off the list"), the organizers succeeded in forcing two candidates accused of beating their wives to step down. One of them was a senate candidate for MAS.