Widespread Voiding of Ballots Marks Bolivia's First Judicial Vote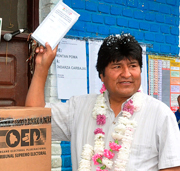 Bolivia's Sunday judicial elections marked a couple of firsts. Not only did Bolivian voters turn out in the country's first public vote for top judicial posts, but the large-scale voiding of ballots appears to be the first electoral rebuff of President Evo Morales since his 2005 presidential victory. Morales hailed the election and massive turnout as important for democracy and to the validity of the country's latest Constitution, approved by referendum in 2009. Official results from Sunday's vote won't be released until October 29, but polling firm Ipsos Apoyo estimated that over 45 percent of voters voided their ballots while some 20 percent left ballots blank. Some saw the results as a rebuke against Morales, with the opposition saying the election signaled a win for its side. Still, many observers say the vote is the latest indication of Morales' slumping approval figures, torpedoed by continued protests over his government's backing of a transoceanic highway through the Isiboro-Sécure Indigenous Territory and National Park (TIPNIS).
Some 5.2 million Bolivians were expected to vote Sunday in the race for 28 national judges—including Supreme Court justices and members of the Constitutional Court—as well as 28 members of the judiciary. The first vote of its kind in Bolivia, the election was seen as a reform aimed at boosting the political voice of the country's indigenous majority, reports Reuters. Opposition leaders urged voters to destroy ballots, saying the election would affect judicial independence; the 114 candidates in the race were selected by Congress, where Morales' party holds a majority. The candidates earning the highest number of votes will still win the posts and OAS electoral observers said election proceedings were conducted in a transparent manner. The government's Communications Ministry urged the public to wait for official results from Bolivia's electoral agency. But media reports painted the widespread destruction of votes as a demonstration of growing dissatisfaction among Morales' indigenous support base. Voting is mandatory in Bolivia. Prior to Sunday, Morales forecast the election would result in a valid ballot rate of 70 percent.
Morales has grown accustomed to electoral wins since taking office in 2006. Among his sweeping victories: More than two-thirds of Bolivian voters opted to keep him in office during a 2008 recall vote. In January 2009, over 60 percent of the electorate voted in favor of the country's new Constitution to create the Plurinational State of Bolivia. Morales went on to win reelection later in the year, when he pulled in 63 percent of the vote, while his Movement Toward Socialism Party won a majority of votes in the lower House and Senate. The president also indicated in the past that he'd seek another five-year term in 2014 due to a measure spelled out in the new Constitution.
But, this time around, Morales' government may be dogged by the TIPNIS controversy, in part due to new autonomous rights  spelled out under the same Constitution. Morales' government argues that the highway, which would connect Brazil's coast with Chile's through Bolivia, will bring economic and development gains at what they claim will be a small environmental cost. But the residents of TIPNIS live in a legally autonomous area under the jurisdiction of the traditional local indigenous groups, who argued they have a constitutional right to prior consultation. Moreover, environmental groups argue the highway will lead to massive deforestation. After major protests throughout much of the country led to clashes and a cabinet resignations, Bolivian legislators voted last week to halt construction of the road. But, if Sunday's electoral results turn out to be any indication, voters' faith may already shaken.
Learn more:
Read an AS/COA Online news analysis about the TIPNIS controversy.
Release from presidential office congratulating Bolivians on turnout.
Link to Bolivia's 2009 Constitution.
Website of Bolivia's electoral body.
Coverage of the judicial elections in Bolivian daily La Razón.