In Washington, North American Leaders Talk Trade, Security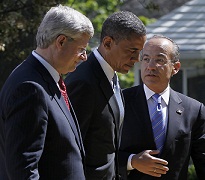 U.S. President Barack Obama met with Canadian Prime Minister Stephen Harper and Mexican President Felipe Calderón in Washington today in the latest trilateral North American Leaders Summit since August 2009. Dubbed the "Three Amigos" summit, the meetings began in 2005 under former U.S. President George W. Bush. The heads of state were to convene in November 2011 in Hawaii, but the death of Mexican Interior Minister Francisco Blake Mora delayed the meeting. The White House said talks would focus on "economic growth and competitiveness, citizen security, energy, and climate change" with its two largest trade partners. The leaders also established an agenda for this month's Summit of the Americas in Colombia and the G20 summit in Mexico in June.
Leaders stressed the importance of trade and the need to create jobs in all three countries. Trilateral trade reached $1 trillion last year, the leaders noted in a joint statement. U.S. exports to Canada and Mexico reached $479 billion in 2011—more than four times the amount exported to China. Bilateral trade between Canada and Mexico increased nearly 15 percent from 2010 to 2011.
With an eye on trade, leaders discussed the Trans-Pacific Partnership (TPP), a free-trade agreement between Australia, Brunei, Chile, Malaysia, New Zealand, Peru, Singapore, the United States, and Vietnam. Canada, Mexico, and Japan expressed interest in joining the group at last year's Asia-Pacific Cooperation summit. Calderón and Harper reiterated their interest while meeting with Obama, who said talks to include Canada and Mexico were "ongoing."
Moreover, the leaders pledged to streamline and eliminate regulations in order to increase trade flows and jobs. In December, Canada and the United States signed the Beyond the Border agreement, which aims to reduce red tape for bilateral trade and travel after increased security measures following September 11. The leaders agreed to make border crossings more efficient and highlighted efforts to continue deregulation and benefit small- and medium-sized companies in North America. Though Mexico was not a signatory, Canada and the United States pointed to the October 2011 Anti-Counterfeiting Trade Agreement—an eight-country accord to promote intellectual property rights and combat piracy—as another example of integrating regulations framework. 
Defense was another critical item on the agenda: Leaders agreed on increased efforts to combat arms trafficking and money laundering. The presidents spoke about the first-ever trilateral North American defense ministers meeting held in Ottawa last week. The discussion brought together Canadian Defense Minister Peter MacKay, U.S. Defense Secretary Leon Panetta, and Mexico's Defense Secretary General Guillermo Galván and Secretary of the Navy Admiral Mariano Saynez Mendoza. The ministers agreed to increase security and intelligence measures to tackle organized crime and drug trafficking. On April 2 Calderón, Harper, and Obama highlighted the need to address transnational crime, particularly in Mexico and Central America. "When you have innocent families and women and children being gunned down in the streets, that should be everybody's problem," said Obama during the April 2 press conference, noting that drug violence can have a "deteriorating effect" on the U.S. relationship with Mexico.
The leaders also announced the launch of the Central America Integration System (SICA)-North America Security Dialogue to coordinate security policy in Central America. This group would bring together North and Central American leaders in high-level security talks to coordinate and strengthen regional efforts to combat transnational crime, as well as avoid "duplication of efforts" to provide support on security issues. While Mexico and the United States already participate in similar discussions with SICA, the new grouping would add Canada to the group and merge the meetings. 
While few concrete announcements came out of the meeting, the summit marked an important moment for North American relations. Robert A. Pastor, director of the Center for North American Studies at American University, said: "There are no relationships in the world more important than our relationships with Mexico and Canada from an economic and security standpoint." In an interview with Excelsior, Assistant Secretary for Western Hemisphere Affairs Roberta Jacobson said that Washington's relationship with Mexico is akin to that of the U.S. relationship with Canada, Germany, or Great Britain. Pointing to infrastructure and energy projects, she said: "The cooperation has been fantastic…it's something that would have been unthinkable ten years ago." 
Learn More: