Summary: Women's Hemispheric Network Annual Conference and Networking Event
How important is networking, and how can women network better? Why is it important for women to speak up on the job? How can working parents communicate better with their children? How can men engage to improve gender parity in the workplace? On October 9, the AS/COA Women's Hemispheric Network's Annual Conference and Networking Event in New York convened a select group of public and private sector female leaders who shared their personal stories and answered these relevant questions with young professionals. AS/COA President and CEO Susan Segal gave opening remarks, followed by a panel, a keynote address, a second panel, and table discussions.
Panel: "Lessons from Women in Leadership"
Speakers:
Kathleen Barclay, Principal, Asesorías KCB Ltda.
Katia Bouazza, Managing Director, Head of Capital Financing, Latin America, HSBC Securities (USA) Inc.
Susan Segal, President and CEO, Americas Society/Council of the Americas
Tony Sirianni, Global Trade Leader, Ernst & Young (moderator)
While raising key issues executive women face in their careers, the panel called attention to the importance of engaging men to achieve gender parity in the workplace. Kathleen Barclay remarked that the difficulties women face should be considered a problem for everyone in society, not just females. This is crucial for understanding that men also have a message they can communicate to other men to get them involved in the struggle for gender equality at work. Based on her personal and professional experience, Katia Bouazza related that positive, functional working relationships between women and men must be founded on effective communication. Moderator Tony Sirianni underscored the significance of language in the workplace. He advised women to be direct and assertive—for the good of the company and themselves—and added that not speaking up or sharing one's ideas can actually set back the company's progress.
When asked about work-life balance, Susan Segal assured the audience that it is possible for parents to maintain healthy relationships with their kids while advancing their careers. Throughout her own career, she made a point of explaining her professional decisions to her children, and as a result, they adapted to her work-life and communicated better with her. Bouazza and Sirianni agreed that there was no single correct formula to balance personal sacrifice and career aspirations. Sirianni encouraged the members in the audience to know their limits as parents. Bouazza advised that women not allow work to prevent them from having a family if they desire to have one.
The panel also stressed the value of networking. Bouazza commented that it is evident that women are already hardworking, diligent, and persevering. When referring to networking, Bouazza proposed that women work smarter, not harder. She encouraged women to market themselves and tell people about the work they do, as no one can represent you better than you can. Barclay noted that while the technical aspect of work is important, it is critical for women to develop broader connections and relationships beyond their work networks to advance their careers.
The panel concluded with general advice for the executive women. Barclay advised the women to know themselves, to do what they love, and to create their own definition of success. Bouazza suggested they decide on a career they are passionate about because with that passion they will create opportunities not only for themselves but also for others. Segal urged women to be confident and not be afraid to speak up. She also recommended said one should enjoy what one does; if not, one will not excel. Sirianni concluded by advising women to be courageous and take advantage of every opportunity as time will not wait for them.  
The Power of Parity: A McKinsey Global Institute Report
Next, Paula Ramos, a McKinsey & Company partner, presented a keynote address. In September 2015, the McKinsey Global Institute produced a report titled "The Power of Parity: How Advancing Women's Equality Can Add $12 Trillion to Global Growth." The report includes research on inequalities women face that can affect their work such as access to health services, education, and legal representation. As a whole, Latin America received a gender parity score of 0.64. Gender parity cannot be achieved by one party. In order to be successful in achieving women's equality, we must engage the private sector, governments, nongovernmental organizations, and others to tackle the multiple obstacles women around the world face.
Learn more about the report on McKinsey's website.
Advancing Professional Women: A Male Perspective
Speakers:
Ambassador Antonio de Aguiar Patriota, Permanent Representative of Brazil to the United Nations
José Antonio Ríos, Chairman and CEO, CELISTICS
Richard Rosenbaum, CEO, Greenberg Traurig LLP
Joel Schwartz, Senior Vice President and General Manager, Global New Business Development, EMC Corporation
Nancy Mahon, Senior Vice President, Global Philanthropy and Corporate Citizenship, Estée Lauder Companies, Inc. (moderator)
During their introductions, some of the panelists revealed their personal reasons for becoming more involved with gender issues. Ambassador Antonio Patriota mentioned his wife's involvement with the United Nations in Haiti, which is plagued by high rates of maternal mortality. His wife's passion helped make the ambassador more sensitive to women's issues. Joel Schwartz shared that his four daughters helped motivate him to better advocate for fairness for women in the workplace.
When asked about the role male leaders should take in the advancement of professional women, Richard Rosenbaum insisted that men learn from their female coworkers. Women talking to other women about the issues they face is not sufficient. He urged men to get involved on the advisory boards of women's initiatives to offer their insight. José Antonio Ríos agreed and said that the appearance of some male leaders in such women's programs will encourage other men to follow suit.
The panelists also addressed the subjects of work-life balance and parental leave. The panel's moderator, Nancy Mahon, noted the value of having a supportive work environment and developing coping skills to deal with the pressures of being a parent and a leader at work. Ambassador Patriota voiced that it was possible to reconcile career objectives and family. It becomes even more probable when women are permitted to exercise control over their reproductive lives, which allows them to better plan when they wish to have families. Rosenbaum recommended that men and women alike keep in mind their responsibilities as businesspeople when finding the right work-life balance. A businessperson has a responsibility to his or her client, and being a new parent should not be an excuse for not delivering at work.
As with the earlier panel, this one concluded with general advice for executive women. Rios clarified that he does not promote women because they are women; he promotes them because they have demonstrated that they are more than capable of performing well in those positions. He advised women to believe in themselves and not accept unequal pay for quality work. Schwartz told women to be bold and take a seat at the table.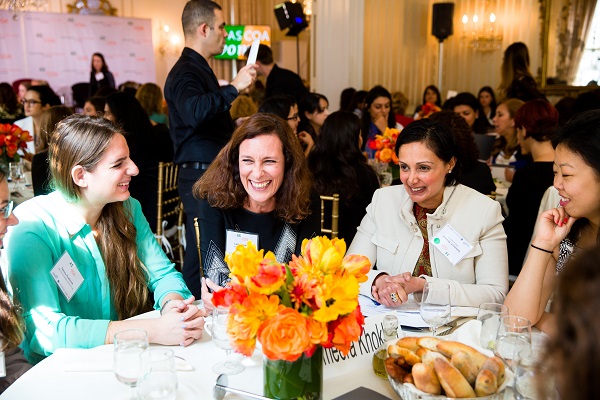 Lunch with Table Leaders
Table Leaders:
Tybra Arthur, Global Managing Director, Financial Services Sector, IBM
Kathleen Barclay, Principal, Asesorías KCB Ltda.
Doris Braun, Executive Director, Corporate Oversight and Control at JPMorgan Chase & Co.
Inwha Huh, Executive VP and North American Regional Head, Global Trade & Receivables Finance, HSBC Bank USA
Someera Khokhar, Partner, White & Case LLP
Samar Maziad, Vice President and Senior Analyst, Sovereign Risk Group, Moody's Investors Service
Andrea Padilla, Marketing Director at CELISTICS and Milagros Villegas, General Manager at Sure Destiny
Daniel Rachmanis, Senior Vice President Latin America, Estée Lauder International, Inc.
Agatha Ruiz de la Prada, Fashion designer
Nikki Lewis Simon, Shareholder, Greenberg Traurig LLP
Jaya Viswanadha, Head of Structured Finance Advisory – Americas, Crédit Agricole CIB