Resource Guide: Covering Chile's Rescue from above and below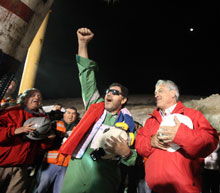 The rescue of the 33 miners trapped in a collapsed Chilean mine captured the world's attention this week in ongoing and emotional coverage of the 22-hour operation. AS/COA Online offers an overview of official coverage, exceptional graphic and multimedia reports, and news about what comes next for those rescued and Chile's mining industry.
  >> Official Coverage
  >> Interactives and Social Media
  >> What's Next?