Ping Pong Diplomacy: Will Cuba Catch Up?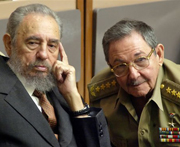 In the summer of 1989, U.S. yachtsmen sailed the Black Sea Regatta after the Soviet Odessa Sports Club had participated in the Liberty Cup Yacht Race around the Statue of Liberty. The exchange was one of hundreds of sports-related exchanges between the Cold War enemies that included hockey, tennis, baseball and diving before the fall of the Berlin Wall.
In contrast, no such policy—until now—has taken off with Cuba.
Sports have always been an effective tool for fostering cross-cultural awareness and breaking down ideological stereotypes. Consider this: Between 1955 and 1985 the U.S. State Department issued on average 1,700 visas a year to Soviet athletes, artists, scientists and students in a policy of "soft power" diplomacy.
In the same vein, the now-famous ping-pong diplomacy launched by President Richard Nixon with China started with a table tennis match. Those early efforts undermined the communist governments' efforts to isolate their citizens and were instrumental in building trust between citizens —and effectively weakened control of governments over their citizens.
Yet, as Andres Schipani reveals in Americas Quarterly, over the five-decade course of U.S. relations with Cuba after the revolution, similar sports-related exchanges were few and far between. Between 1998 and 2000, the U.S. State Department issued a mere 600 visas a year on average for people-to-people exchanges. By 2008 those had dropped to just over 200. Only recently have U.S. licenses increased, reaching over 700 last year.
The contrast between policy toward the United States' former communist enemies (armed to the teeth with nuclear weapons pointed at U.S. citizens) and its uncreative, timid policy toward Cuba is as illogical as it is unfortunate.
Cubans have been fed a daily diet by the Castro regime of U.S. imperial designs on their island and painted a picture of this country as crime-ridden, racist and dangerous. What better way to tear down those propaganda-driven misconceptions than the smiling faces of Little Leaguers or pro-baseball players in an exhibition game, sharing the field and the spirit of healthy competition with their Cuban counterparts?
Opponents like to say that travel to the island's state-controlled tourism sector funds the repressive machinery of the Castro brothers. True. But this is not a zero-sum game. The benefits for freedom of exchanges that break the regime's stranglehold on information and contact clearly outweigh the imputed boon to the Cuban state.
Others say also that the notion that such programs can influence relations are naïve —that they will only be controlled and manipulated by the Cuban government. Such logic begs the question of why they were seen as such powerful tools against far more antagonistic and dangerous regimes such as the USSR or those in Eastern Europe. The argument, though, underscores this sense of the Castros' omnipotence —a concept that has kept U.S. policy locked not even in the Cold War but in some other strange dimension.
In 1963, in a different era, a group of U.S. students traveled to Cuba and played ping pong with Fidel Castro. That's not the sort of exchange we need. Neither of the Castro brothers are fit to play a rousing game of table tennis anymore (nor, probably, are many of those now-former students). It's time now to move the game, and play ball with the Cuban people.
Christopher Sabatini is editor-in-chief of Americas Quarterly and senior director of policy for the Americas Society/Council of the Americas.