New Chapters in Central America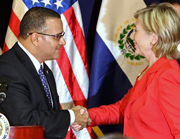 Updated June 3 - Leaders descended on El Salvador June 1 for the inauguration of President Mauricio Funes. The handover marked a historic shift for the Central American country; after a lengthy period of conservative rule, Funes takes office as the head of political party that grew out of a guerilla movement. "The Salvadoran people asked for a change and the change begins now," said the new president during his inaugural address.
As a sign of that change, Funes compared himself with U.S. President Barack Obama (as well as Brazil's Luiz Inácio Lula da Silva). In attendance at the event, U.S. Secretary Hillary Rodham Clinton acknowledged the comparison and described another change—the Obama administration's "new approach to the region." She told U.S. Embassy employees in San Salvador, "We have to recognize that our country is not perfect either, that some of the difficulties that we had historically in forging strong and lasting relationships in our hemisphere are a result of us perhaps not listening."
Clinton got an earful—particularly about Cuba—at the Organization of American States (OAS) General Assembly on June 2 and 3 in neighboring Honduras. On June 3, the OAS chose to reverse a 1962 decision that resulted in Cuba's suspension. This came after several leaders criticized U.S. policy toward the Caribbean island at the Summit of the Americas in April. Washington has made some overtures, demonstrated by an agreement to restart bilateral migration talks and Washington's decision to join in submittin a proposal that allows for examining Havana's readmission into the OAS. But Clinton reiterated Monday the U.S. position that, to gain OAS membership, Cuba should "respond with a process that would address the fundamental questions about democracy and human rights."
Still, Washington found itself isolated in terms of its Cuba policy during Clinton's Central America tour. Funes' first act as president was to restore his country's diplomatic relations with Havana, making Washington the only hemispheric country left with no formal Cuba ties. And the OAS took a strong step when deciding to allow Cuba to rejoin. Havana has criticized the agency, calling it a "cadaver" and saying it does not wish to become a member again. However, should Cuba's government change its mind, the OAS agreement says a dialogue will begin in which Cuba would need to adhere to the OAS "practices, proposals, and principles." Cuba would have to sign the OAS democratic charter, which was passed in 2001.
Cuba was not the only matter on the docket for Clinton during her Central American tour. The secretary attended a Pathways to Prosperity meeting on Sunday. The initiative, launched at AS/COA in September 2009, focuses on using democracy and open markets to achieve social justice. Clinton pointed out that the 14 member countries (Canada, Chile, Colombia, Costa Rica, the Dominican Republic, El Salvador, Guatemala, Honduras, Mexico, Nicaragua, Panama, Peru, United States, and Uruguay) represent 34 percent of the world's GDP. Clinton also met with President Álvaro Uribe of Colombia on the inauguration's sidelines to discuss the pending bilateral trade agreement and Plan Colombia.
Read an AS/COA analysis of Funes' electoral victory. The Wall Street Journal notes that Funes' inauguration "brought to an end nearly a half-century of polarized politics in Latin America's bloodiest Cold War battlefield," which claimed tens of thousands of lives. The article also looks at a number of challenges the new leader inherits, from high crime rates to an economy damaged by the financial crisis. Elfaro.net offers a list and background about Funes' new cabinet.