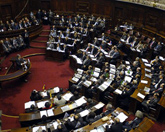 With a new leader at the helm in Argentina and Venezuela's Mercosur membership hanging like a question mark, South American leaders gather in Montevideo December 18 for a trade bloc summit. The meeting comes as the organization (also known as the Southern Common Market) signs a free-trade deal with Israel, inking the trading bloc's first free-trade agreement. The summit also marks the handover of the rotating chair that presides over Mercosur's parliament (Parlasur) from Uruguay to Argentina, even as the two countries face a dispute over a paper mill.
New Argentine President Cristina Fernandez de Kirchner called Uruguayans "our brothers" and said she would avoid deepening the disagreement. However, she insisted the fault lies with Uruguay for violating a bilateral treaty governing the river dividing the two countries  by building the pulp mill on the river's banks.
During her inaugural speech, Kirchner also pledged to support Venezuela's entry into Mercosur. (Days after she took office, a U.S. criminal case linked Kirner's campaign to a suitcase filled with $800,000 found in Caracas. The new leader vehemently denied the connection, and suggested Washington was trying to trouble Argentina's relations with Venezuela.) The legislatures of Argentina, Uruguay, and Venezuela approved the country's incorporation, but Caracas' full membership awaits ratification by members Brazil and Paraguay. Controversy over President Hugo Chavez's oil nationalizations and the revoked license of opposition TV channel RCTV delayed Venezuela's Mercosur inauguration—pending since 2005.
The continued postponement prompted Chavez to absent himself from the last presidential summit in June 2007. "He seems interested in Mercosur chiefly as a political platform," said the Economist at the time. "Free trade would expose the big inefficiencies engendered by his statist economic policy."  At the time of the 2005 announcement of intentions to make Venezuela a full member, Chavez said, "We need a Mercosur that prioritizes social concerns."  
The original goal of Mercosur, established with the 1991 Treaty of Asunción, involved tariff reduction, arbitrating as a bloc, increased integration, and creation of a customs union. The bloc covers a geographical area four times the size of the European Union, included 250 million people, and accounts for roughly 75 percent of South America's economic activity. Associate members—which do not enjoy full voting rights or access to markets in Mercosur--include Chile, Colombia, Bolivia, Ecuador, and Peru. Long-term goals include creation of a bloc extending to all of South America—and beyond. Brazilian President Luiz Inácio Lula da Silva extended an invitation to Mexico to join in September, as this AS/COA hemispheric update explains. 
But Uruguay and Paraguay complain of being overshadowed by larger economic partners Brazil and Argentina, pushing them to seek deals outside of Mercosur; In January 2007, Montevideo signed a Trade and Investment Framework Agreement (TIFA) with Washington. The TIFA opens the door to a bilateral agreement, which would violate Mercosur's treaty. As tensions between Mercosur members emerge—and steps toward trade agreements with potential partners such as the European Union continue to stumble—some question the bloc's relevance.