Map: Which Latin American Countries Have Restored Relations with Venezuela?
Several countries broke ties during the last decade under the Maduro regime, but there's been a recent trend toward returning diplomats to Caracas.
2019 marked an inflection point for regional relations with Venezuela. The year prior, Nicolás Maduro declared victory in an election largely considered a sham by international observers. On the day Maduro was to begin his second term, Juan Guaidó, the president of the National Assembly, argued that there was a power vacuum in the country and that, per the Constitution, he could assume the interim presidency of Venezuela in a caretaking capacity. Guaidó's move was backed by the National Assembly and governments worldwide. In recognizing Guaidó and rejecting the election's results, countries across the world—including Argentina, Brazil, Colombia, Chile, and Peru—severed their relations with the Maduro regime.
Even before the 2019 political standoff, several countries in Latin America had stopped maintaining full diplomatic relations with Caracas. After tiffs with Hugo Chávez (1999–2013) and Maduro, the leaders of countries like Honduras and Uruguay pulled their ambassadors.
But as of late, diplomatic rapprochement has become common. In January 2023, the National Assembly, which had elected Guaidó leader, voted to remove him from the role, leading many countries to cease to recognize him as interim president. This—alongside the election of more leftist politicians in the region, like Brazil's Luiz Inácio Lula da Silva and Honduras' Xiomara Castro—has resulted in a notable number of Latin American countries returning ambassadors to Caracas.
But even among leaders who have promoted normalizing relations with Venezuela, there is dissonance in terms of how to approach the Maduro regime. For example, Lula both met with and defended the Venezuelan leader at a May regional summit he hosted and said there is a false "narrative" that Venezuela is "anti-democratic." Other summit attendees, like Chilean President Gabriel Boric and Uruguay's Luis Lacalle Pou, openly disagreed with Lula's framing.
Now, Venezuela is preparing for its first presidential election since 2018. Already, there are questions about the legitimacy of the electoral process, despite efforts from organizations like the European Union to ensure improvements are made. Recently, the legislature voted to replace the members of the electoral commission, known as the CNE, after receiving a request from the opposition to facilitate their primary election. The new CNE members have not been selected, but it's unlikely to include representatives from the opposition. 
Ahead of that race, where do Latin America's relations with the Maduro regime stand? AS/COA Online tracks each country's diplomatic ties with Venezuela.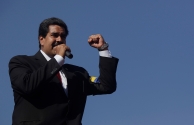 LatAm in Focus: A Decade of Nicolás Maduro
Bloomberg's Fabiola Zerpa and Amherst College's Javier Corrales discuss the Venezuelan leader's bleak record as the country prepares for 2024 elections.