Los Visionarios Urbanos de América Latina, en la nueva edición de Americas Quarterly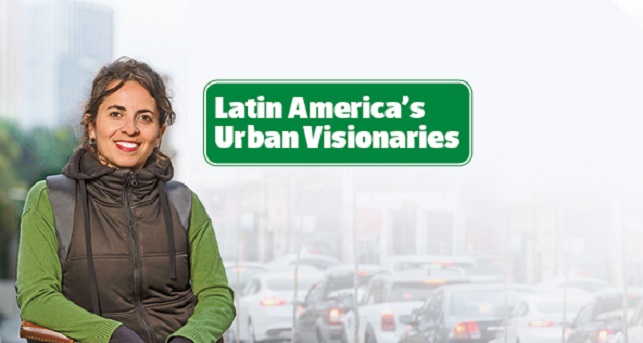 Nueva York, 16 de octubre de 2018 – En un continente donde el 80 por ciento de la población vive en zonas urbanas superpobladas, resolver los problemas requiere más que políticas públicas inteligentes: requiere visión y coraje. Para su última edición del 2018, Americas Quarterly (AQ) —la principal publicación sobre política, negocios y cultura del hemisferio— identifica a los cinco líderes que están promoviendo el cambio y creando ciudades más sustentables, resilientes y mejor preparadas para el futuro del trabajo. Los personajes incluidos en el especial de 70 páginas de AQ "Visionarios Urbanos" son alcaldes, emprendedores, activistas, arquitectos y ciudadanos comunes y corrientes, que creen que la combinación de ideas poderosas con la habilidad de establecer colaboraciones, resulta en mejores ciudades para todos. 
"América Latina es un lugar donde el civismo es débil, quizás por ser la región con la mayor desigualdad entre pobres y ricos. A veces el interés propio, la desconfianza y la polarización política terminan ganando", escribe el Director de AQ, Brian Winter. "Estos líderes han encontrado maneras de sobrellevar estos problemas y han demostrado que la recompensa puede ser inmensa".
"En América Latina no falta la innovación y con la creciente demanda global para que las ciudades respondan a las necesidades de sus poblaciones en expansión, necesitamos ideas transformadoras que hagan nuestras comunidades más habitables y sostenibles", explica Brandee McHale, Presidenta de Citi Foundation. "Trabajando de manera coordinada entre distintos sectores, podemos pasar de las ideas a la acción y darle mayor escala a muchos de estos proyectos pioneros".
Los "Visionarios Urbanos" de América Latina según AQ son: 
Horacio Rodríguez Larreta, el Alcalde de Buenos Aires quien, a pesar de las limitaciones económicas, ha invertido fuertemente en infraestructura y educación para reducir la desigualdad. 
Ricardo Mora, un emprendedor en Ciudad Juárez cuyo centro de trabajo e incubadora de ideas para empresas emergentes ha atraído talentos e inversiones a la deprimida región fronteriza. 
Raisa Banfield, la ex personalidad de televisión y actual Vicealcaldesa de Ciudad de Panamá, reconocida globalmente como una campeona del medio ambiente.  
Jhony Fernando Fernández, un joven proveniente de un barrio de escasos recursos de Cali, quien pasó de ser miembro de una pandilla a líder comunitario y pacificador.
Aline Cavalcante, una entusiasta ciclista convertida en activista, que quiere hacer de las peligrosas calles de São Paulo un lugar seguro para quienes se desplazan en dos ruedas. 
EVENTO EN VIVO: ¿Cómo va a cambiar el mercado laboral en las ciudades latinoamericanas para el 2030? ¿Qué deberían hacer las ciudades para prepararse para el trabajo a destajo, la automatización, el cambio climático y otros futuros desafíos? En conjunto con Citi Foundation y con el apoyo de la ciudad de Buenos Aires, el U20 Mayoral Summit, 100 Resilient Cities, y la Universidad Torcuato di Tella, Americas Quarterly realizará un evento de lanzamiento el 31 de octubre en Buenos Aires en el que reunirá a un grupo de alcaldes, emprendedores, activistas y al público en general, para discutir cómo lograr que el siglo XXI sea positivo para las ciudades. Este evento será transmitido en vivo. Siga la conversación en @AmerQuarterly y #AQcities. 
En la sección especial "Visionarios Urbanos", la Presidenta de Citi Foundation, Brandee McHale, argumenta que existen muchas propuestas audaces para mejorar la infraestructura en las ciudades latinoamericanas, pero que hacerlas realidad requiere planificación a largo plazo de parte de las autoridades.  El periodista Seth Kugel describe cómo las micro cervecerías están resucitando un área industrial abandonada en Porto Alegre, Brazil. Además, AQ destaca las iniciativas que están mejorando las ciudades de América Latina, entre ellas patinetas eléctricas, jardines verticales y chatbots creados por jóvenes programadores.
Otros artículos incluidos en esta edición: 
La historia de cómo exiliados cubano-americanos lanzaron más de 100 bombardeos en suelo estadounidense en los años 70. 

Música recomendada por AQ, desde blues de la isla de Guadalupe hasta boleros antiguos. 
Un repaso por las últimas tendencias en la región. 
La edición completa del cuarto ejemplar del 2018 de Americas Quarterly estará disponible el 31 de octubre en americasquarterly.org.
Americas Quarterly (AQ) es la publicación más destacada dedicada a la política, los negocios y la cultura en las Américas. La premiada revista y su sitio web, tienen como misión presentar la verdadera América Latina al mismo tiempo que promueve sus valores fundamentales: democracia, crecimiento económico inclusivo e igualdad de derechos para los cerca de mil millones de habitantes del hemisferio. Tomando elementos del The Economist, Foreign Affairs y National Geographic -pero enfocándose en América Latina- AQ está dedicada a cubrir la región en toda su diversidad y potencial. Quienes leen AQ son los tomadores de decisión en la región, entre ellos CEOs, altos funcionarios de gobierno, formuladores de política pública y líderes de opinión, así como una audiencia interesada por lo que sucede en las Américas. Creada en 2007 y editada en la ciudad de Nueva York, AQ es una publicación independiente de Americas Society/Council of the Americas, entidades que por más de 50 años se han dedicado al diálogo en nuestro hemisferio.