LatAm in Focus: Superpesos? Coldplay Dollars? Inside Latin America's Currency Markets
How have some Latin American countries kept currencies steady against the strong dollar? XP Investment's Alberto Bernal talks with AS/COA's Randy Melzi.
New to the podcast? Check out past episodes and learn more about Latin America in Focus, and subscribe on Amazon, Apple, Spotify, Google, Soundcloud, or Stitcher.
---
The pandemic era has presented non-stop macroeconomic challenges for Latin America. From quarantine-induced shutdowns to high deficits sparked by social spending, governments and central banks have endeavored to implement policies to spur growth while maintaining fiscal solvency.
That task has been complicated by the strength of the U.S. dollar. The currency has appreciated against most other currencies globally, especially in Europe.
But the picture is more mixed in Latin America, where countries have managed to keep currencies holding their value steady against the dollar. "Kudos to most of the central banks in the region. I've got to put it that way. They reacted fast. They reacted aggressively," said Alberto Bernal, chief emerging markets and global strategist at XP Investments.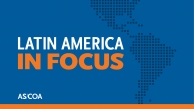 Latin America in Focus Podcast
Subscribe to Latin America in Focus, AS/COA's podcast focusing on the latest trends in politics, economics, and culture throughout the Americas.