La innovación tecnológica y el bienestar, claves en el futuro del trabajo en Latinoamérica
"Empresas que sepan adaptarse…podrán dar ese gran salto hacia la vanguardia", escribe María Lourdes Teran de AS/COA en Ideas de Negocios Televisión.
En los últimos dos años el mundo ha cambiado de forma acelerada. Hemos aprendido en el camino cómo trabajar a distancia, valorando la importancia que tiene el manejo del talento humano para las compañías en América Latina, que día a día viven el desafío de encontrar mejores formas de habilitar e incrementar el compromiso de sus colaboradores para seguir siendo relevantes.
De una u otra forma, hemos sido testigos de una transición irrevocable hacia el trabajo remoto, la reasignación de los recursos de las compañías y la aceleración de la digitalización.
De acuerdo con el estudio "La empresa social en un mundo convulsionado" de Deloitte, el 35% de los equipos de Recursos Humanos está implementando nuevas tecnologías como una de sus más importantes acciones para transformar el trabajo, mientras que 45% menciona que está construyendo una cultura organizacional que celebre el crecimiento, la adaptabilidad y la resiliencia. […]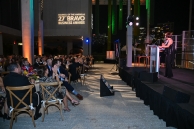 27th COA Symposium and BRAVO Business Awards
The premier Latin American business engagement and dialogue platform returned in person to Miami.