Interview: OIJ Secretary-General Alejo Ramírez on the Ibero-American Youth Survey
"The fact that youth feel optimistic doesn't mean that in five years things are necessarily going to be better. It's fundamental that governments, the private sector, international cooperation, and other actors work to make sure this happens."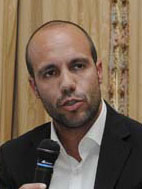 How do youth in Latin America perceive the institutions in their countries, opportunities for the future, and controversial social issues? The Ibero-American Youth Organization (OIJ) released its first-ever Ibero-American Youth Survey in July, after conducting the study in 20 Latin American countries, as well as Portugal and Spain. Alejo Ramírez, OIJ secretary-general, spoke to AS/COA Online's Rachel Glickhouse about some of the surprising results, such as Brazilian youth having different perspectives from their Latin American peers and Central American youth ranking as some of the most positive in the region. Based on the results, "a dialogue needs to be restarted with the youth,"said Ramírez. "We feel that these institutions need to open up and learn what youth think and what their expectations are."
---
---
AS/COA Online: What was the main purpose of the survey and what do you hope will come out of conducting it? 
Alejo Ramírez: The main purpose was to begin gathering information about youth that was not stigmatized, the idea being that we would bring a positive logic to finding out what the youth have. Usually the focus of most surveys is on what youth don't have, like a job, or problems with violence, drugs, or other negative aspects. What we wanted to do was have a more positive outlook of what their expectations were. 
In terms of the results, we were very pleased to find out that two out of every three youth is optimistic about his or her future. We also found out that they are very inclusive in the sense that they value integration within the region. They value solidarity with small countries and support adopting a single currency. They're not preoccupied with borders. 
What we did find out is that they're very critical about education; not education as a whole, but rather about the administrators of the educational system. There was dissatisfaction with the way schools are being administered or the whole education process is being administered. However, a surprise for us is that youth were more conservative than we thought they were. They're more conservative about drugs, issues around abortion, and that we weren't expecting. The outlier on this particular issue is Brazil, but I think Brazil deserves a separate response. 
AS/COA Online: Which countries had the most positive views on education and finding a job? Is there any correlation with economic growth or stability? 
Ramírez: The relationship between education and employment is interesting. We found that in the Iberian Peninsula and Mexico, youth felt that education was not the most important component to getting a good job, but rather they felt that personal connections were more important. However, in the rest of Latin America, the response is clearly more related to education. 
But what we found out is that employment is not their main concern. Their main concern is related to the issues of violence, insecurity, and to the impact of drugs in their communities. Latin America's problems have changed. Historic problems were unemployment and inequality; it's now a Latin America with new middle classes. The fact that the main problem is no longer unemployment indicates the development of new problems.
AS/COA Online: Mexican youth tended to have some of the lowest confidence in institutions, such as the media and police. In comparison to other regions, how can this be explained? 
Ramírez: Youth feel that they're not linked to institutions. The only exception was universities, the highest ranked institution in all of the countries. But it was interesting to note that politicians and the police were the worst ranked, and that speaks to youth not feeling represented by politicians, and seeing police as their biggest public enemies. Particularly in Mexico and in the majority of countries, youth tend to have this gap with institutions overall.
The issue about universities is a paradox, because while they were the highest ranked institution, Ibero-America has a very low number of people attending university compared to the rest of the world. So this idea is aspirational; it's what youth would like to believe in, not necessarily that they're part of it. And I think it relates a little bit to what we were talking about previously about the link between education and employment.
Then, when we go to the issue of government, it is interesting that government itself was ranked higher than the politicians themselves. This represents a belief on the part of youth that the administration of government is different than the politicians. In other words, youth approve more of government administration than government officials themselves.
So part of what we expect from the survey is to demonstrate that a dialogue needs to be restarted with the youth. We feel that these institutions need to open up and learn what youth think and what their expectations are. 
AS/COA Online: Brazilian youth tended to have more progressive views on issues like same-sex marriage and legalizing marijuana, but they also tended to be the most pessimistic about education, violence, and quality of life. Why do you think that is? 
Ramírez: When I played soccer when I was younger, there was an idea that one player that wasn't playing the same game, and that was the goalie. He dressed differently than the other players and he could touch the ball with his hands. That can be used to describe Brazil. It appears that Brazil, even though it's located in the region, appears to be playing another game. It's different in almost all aspects than the other countries.
Youth in Brazil differed in a lot of areas, like perspectives for the future and regional integration; it was the only country that rejects integration. However, they also were the ones that value youth participation the most, out of all the countries. This can be explained by several things. They speak a different language and live in a continental-sized country. They're mostly self-sufficient, and the country is in perhaps the most globalized phase in its history. 
Finally, the survey coincided with Brazil's protests, and I think this affected, above all, youth perspectives about the future. We know of another survey that was conducted in 2012, and that had much more positive results in terms of perspectives on the future. Our survey was conducted in January, February and March of this year, which immediately preceded the demonstrations. I think this affected the results. 
AS/COA Online: Given high levels of violence and unemployment in Central America, one might expect more pessimism from this particular region, but that didn't seem to be the case. Why? 
Ramírez: What we have found is that whenever you work with youth, you need to be able to be surprised. But it seems to me that personal reasons are the most important ones when thinking about the future.
In the index in which youth indicate their expectations for the future, I think the levels relate to personal expectations, and not necessarily to variables like the economy, violence, or family income. These factors don't necessarily impact expectations for the future. I remember that 10 or 15 years ago when Colombia was in the throes of its anti-narcoterrorism fight, the Colombian people were the happiest people in Latin America. 
So one of the reasons why we worked with the UNDP on creating the index is to begin researching, in a new way, about how youth come up with their expectations for the future. We have to continue researching to find out why, in spite of violence, Central American youth are the happiest and most positive in the region, along with those from the Andean region.
AS/COA Online: What result surprised you the most in the survey? 
Ramírez: What surprised me the most was the optimism, that youth felt that in five years things were going to be better than they are today. However, what we need to understand is that the fact that youth feel optimistic doesn't mean that in five years things are necessarily going to be better. It's fundamental that governments, the private sector, international cooperation, and other actors work to make sure this happens. If we don't do anything now, within five years things will be worse.