Interview: El Salvador's Ambassador to the U.S. Rubén Zamora
The ambassador reflected on the Obama administration's evolving Central American security policy, as well as building economic opportunity in El Salvador.
"[W]e have started what we call the two-track policy—continuing with the fight against crime in the country by stage agencies, but at the same time, town by town, trying to develop conditions for preventing violence and reintegrating those people into society in a productive way."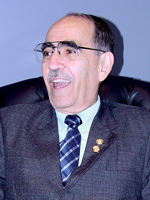 Appointed last month as the new Salvadoran ambassador in Washington, Rubén Zamora spoke with AS/COA Online's Carin Zissis about the evolution of U.S.-Central American security policy in light of President Barack Obama's recent trip to the region, saying: "Now the Obama administration is moving towards a more comprehensive approach, using the mantra, I would say, of partnership." The ambassador also gave an overview of the Salvadoran government's local strategies to drive down crime, as well as how to leverage initiatives such as the Partnership for Growth and CAFTA-DR. With a political career dating back to 1970, Zamora served twice as a legislative deputy in El Salvador's National Assembly, was a member of the country's Peace Commission, and ran, in 1994, as the first presidential candidate of the left's coalition after the 1992 Peace Accords. More recently, he held the post of ambassador to India.
---
---
AS/COA Online: In light of U.S. President Barack Obama's recent meeting with leaders in Costa Rica, including with President of El Salvador Mauricio Funes, what were some of the accomplishments? And what more do you think should have been done?
Ambassador Zamora: For us, the meeting between President Obama and the seven Central American and Caribbean head of states was important because we learned about U.S. foreign policy on Central America. The discussion was very frank among the presidents and it was clear for us—and this seems to me an important achievement—that President Obama clearly was for a more integrated approach to the question of security. That was one of the main issues in the talks among the heads of states. We had mostly been used to the United States insisting more and more on the question of controlling crime; that is necessary, but is very insufficient to achieve results. Now, it seems to me, Washington is having a more comprehensive, holistic approach to the problem that we are facing in Central America, both in terms of the crime and in terms of Central America being a region through which South American drugs travel to the United States.
AS/COA Online: In connection with that, I wanted to ask about CARSI [Central America Regional Security Initiative]. In March, Assistant Secretary of State for International Narcotics and Law Enforcement Affairs William R. Brownfield gave remarks at our organization, and he said: "What we are doing today is actually very different from what we thought we were going to be doing four years ago." What do you think needs to happen to improve security cooperation on a regional level? And how would you suggest that CARSI could evolve further?
Zamora: The starting point now is that the best strategic view when it comes to security in Central America, especially in the northern part—that means Guatemala, Honduras, and El Salvador—is that you have to attack the problem with a two or three-track policy. You cannot do it just with a single line of policy, or the tactic of controlling crime without addressing the question of the rehabilitation of gang members into mainstream society. On the contrary, I think that the Obama administration has made very clear—and for us, this is very important, because this is how we approach these problems—that we have to use the power of the state to prosecute crime and try to arrest the people who break the law, but simultaneously develop a serious policy of rehabilitation and prevention of social violence.
I noticed this change in the U.S. policy. Now the Obama administration is moving towards a more comprehensive approach, using the mantra, I would say, of partnership. This is something that our president, President Funes, from the very beginning of his administration insisted on in his inaugural address, saying that government alone cannot do the job; government with the private sector cannot do the job; the job has to be done taking into account three fundamental components: the government, the private sector, and civil society.
And now, we find that President Obama, in his policy coincides fundamentally with what we believed from the beginning. That's why, I suppose, El Salvador is one of the four countries in the world with which the Obama administration has signed a Partnership for Growth, which is a special instrument to promote inclusive investment in our countries.
AS/COA Online: Along those same lines, in April, just a few weeks before Obama's trip, President Funes traveled to Washington and stopped at the White House, the World Bank, and the IDB. He talked about how last year's gang truce in El Salvador has led to a decrease in homicides. He made the case for why that presents "an economic opportunity to drive that criminal world away." Can you comment on the specific strategies that he was referring to in terms of that "economic opportunity?"
Zamora: The strategy that our government now is implementing had a necessary precondition—that these gangs had to agree to a truce to stop killing each other, because most of the killings that happen in El Salvador are a consequence of fighting among the pandillas—the gangs, or what we call the maras. In that sense, civil society, the Church, and certain other people were able to sit the two main gangs down together and agree on a truce.
Now, we have gone into the second stage, and we are continuing our fight by the police against crime. In fact, the number of people that have been put in jail has increased since the gang truce, and the number of gang cells that have been dismantled has increased in the last 12 months.
At the same time we have started a new policy called Municipalities Free of Violence (Municipios Libres de Violencia). This is a movement in which the local authority, the mayors, civil society, and private-sector representatives sit down with gang leaders in the town and try to see what those people need to abandon crime and get incorporated into society. So far, 20 municipalities have already made the agreement of trying to have a town without violence. Then, the role of the government is to introduce resources in each of those towns in order to develop the area and meet some of the needs of vulnerable population. One of these needs is employment for gang members. The president recently announced that $33 million in funds is going to be put into Municipalities Free of Violence.
In that sense, we have started what we call the two-track policy—continuing with the fight against crime in the country by stage agencies, but at the same time, town by town, trying to develop conditions for preventing violence and reintegrating those people into society in a productive way.
AS/COA Online: El Salvador was the first Central American country to ratify CAFTA-DR [Dominican Republic-Central America Free-Trade Agreement] in 2004, as well as to implement it in 2006. Looking back, how has El Salvador benefited from CAFTA-DR, and in what areas do you think that agreement has fallen short? What needs to be done to make the country more economically competitive?
Zamora: Let me be very frank with you. I think El Salvador has not used CAFTA in all the possibilities that the agreement offers our country. This is true, because CAFTA, in terms of economic development, rests a lot on private initiative with investment. And this has been one of our main difficulties in the last, I would say, 30 or 40 years in El Salvador—that the level of investment is very low.
In that sense, CAFTA helps, because it allows more opportunities for our investors to get to the U.S. market and try to place their products there. But we have to solve the problem of productivity. It's very low, the productivity of our workforce, because technologically, we are not adequate. The development of a partnership between El Salvador and the United States is helping with that. And the compact—the second compact of the [Millennium Challenge Corporation], which is in the process of being approved—is the other component that will help us not only to make our private sector more competitive in the United States, but at the same time to attract U.S. investments that will help us to increase job opportunities for our people.
In that sense, I feel that CAFTA is still more of an opportunity than a reality. But our government is absolutely committed to change that and make CAFTA a reality and an instrument for development.
AS/COA Online: I wanted to talk a little bit about immigration. President Funes has indicated that he would seek renewal of Temporary Protected Status [TPS] for Salvadorans in the United States, who gained it due to the 2001 earthquake. Why does TPS need to continue, and how do you think the proposed U.S. immigration reform could affect whether TPS is maintained?
Zamora: The TPS was very useful for many Salvadorans. Right now, there are more than 200,000 Salvadorans with that opportunity to work legally in the United States. For them, as well as for thousands of undocumented immigrants that we have here in this country, the proposal for immigration reform is a positive sign, and people have a lot of hope that this is going to become reality—especially people protected by TPS. In the language of the law drafted by the bipartisan Senate group, there is a special place for the people who have a temporary legal permit to work. And the TPS is that—it's a temporary permit because you have to renew it every year or every one and half years. The legal language says that whoever has that legal temporary permit and is working for more than 10 years in the United States will be moving from next October towards a permanent work permit, and then citizenship.
That's why TPS immigrants are looking at the reform with a lot of hope, because our people have more than 10 years of TPS already. For the rest of them, of course there would be a possibility—a real possibility—to become legal in this country.
AS/COA Online: So El Salvador is less than a year away from a presidential election, meaning that President Funes is heading into the final year of his four-year term. What are his primary goals before his term ends, and how can he work with the legislative opposition to achieve them?
Zamora: The president has been very clear that it doesn't matter that he is going to stay one year or one month; we have to work as if there is no limit to the things that we can achieve. That means fighting against the idea of a lame-duck government, which, you know, is one of the bad sides of democracy.
What we have tried to achieve in this period is basically to advance in combating insecurity for the citizens of El Salvador; secondly, to try to attract investment to move our economy forward. In that sense, the government is engaged in a very strong push in our congress—what we call the National Assembly—to pass a package of legislation, starting with a law on public and private-sector partnerships, and then some investment law reforms have already been approved by Congress.
Although the president doe not have a majority in congress now, it's possible to achieve understanding with different factions in order to pass the legislation. We are hoping, for instance, that one of the cornerstones of this new legal framework that is the private-public partnership law is going to be approved in the next two or three weeks, because we already have the votes for passing the law. But we are trying to get in the Assembly a unanimous vote in order to give the private-public partnership law the seal of being a strategic law in our national development.
AS/COA Online: One last question. I know we've covered a lot of different topics, and I wanted to talk to you more directly about your experience. You have many years of political experience in a number of different capacities, but it's interesting that you were previously ambassador in New Delhi. How did your time in Asia inform you in terms of El Salvador's economic and development goals?
Zamora: Being in India was a challenge, but I used to say in India, when I was talking to different groups and private-sector members and organizations, that El Salvador is absolutely unknown in India. India is also unknown in El Salvador, because our society and our economy have always been looking towards the North, not towards the East. But you know that probably, in the next 20, 30 years, this is going to become more and more important globally.
Therefore, what we have been trying to build up now is, first, a sort of interest in El Salvador; secondly, to identify what will our niche be for developing trade with India—and we already have started to identify some areas—and then to try to work on those areas to let people know about the opportunities and possibilities in El Salvador, and attract commerce and investment to El Salvador.
Let me tell you, I was there two years. It was a very, very difficult, but at the same time, a very rewarding job because we have started to have, in certain areas already, Indian enterprises in El Salvador doing business with our people.